Elisabeth and Isaac, so far at least, enjoy taking a timeline and then completely turning it on its ear if not hitting the Jettison Button altogether. Let's recap. They moved their wedding up by more than a year because they wanted to buy a house. None of this first apartment, "ramen noodle days" stuff for them. No time for bridal portraits, engagement photos or anything before their June wedding, which was a stunner, by the way. It was at Tanglewood Park, and the bride was gorgeous, the groom handsome and they were surrounded by joyous friends and family. (Oh! And killer shoes/booties on the bride…..). So, we took the engagement and bridal portraits after the wedding. We're starting with the engagement photos!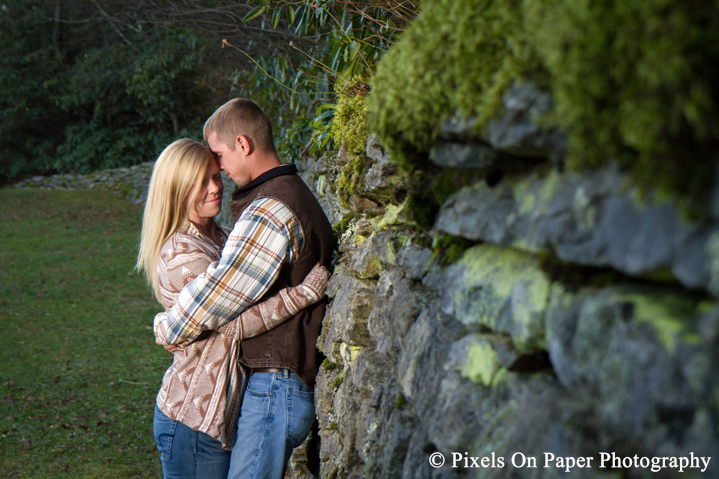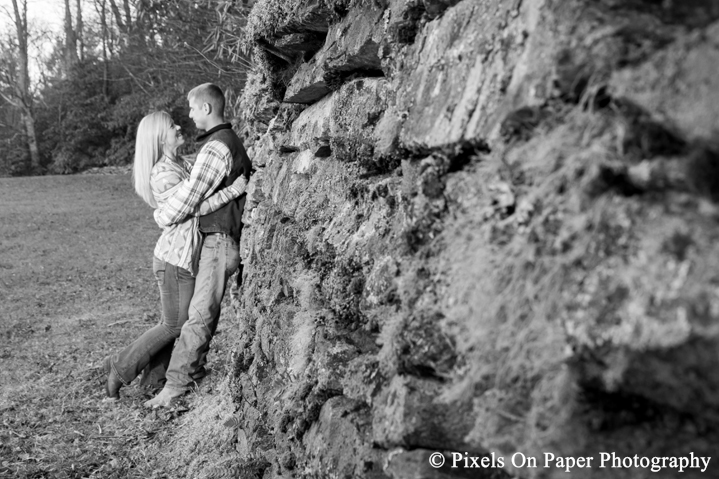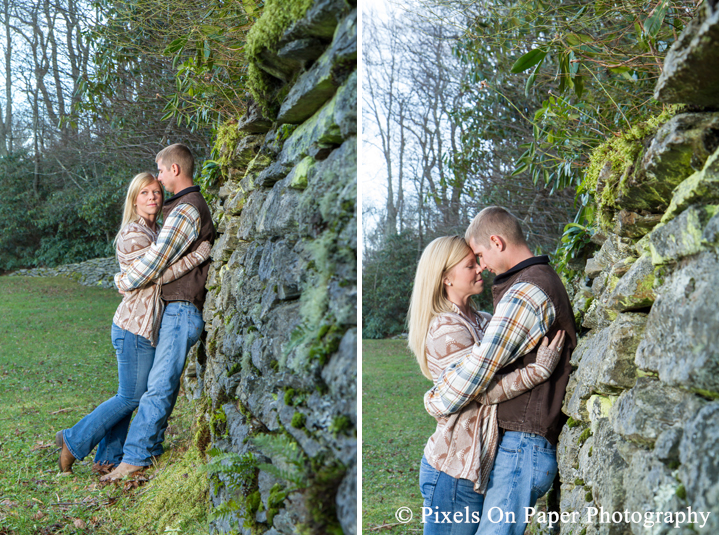 We ended their wedding blog with "your wedding was magic" and honestly, so was the engagement portrait session. We met up with them on a trail in Blowing Rock. Isaac is outdoorsy and Elisabeth went to Appalachian State University, so this was a perfect spot. It was a cold but clear day when we got there, I turned to Ryan and said, "I have a vision, but it's going to take more light." He said, "lead the way." When the couple arrived (and I should say, they feel like old friends now, having bonded with them while shooting their wedding), I said "I know it looks dead, but trust me," and they said "we already do." And just like that it was magical. I actually posted about this on Facebook because I was so completely jazzed.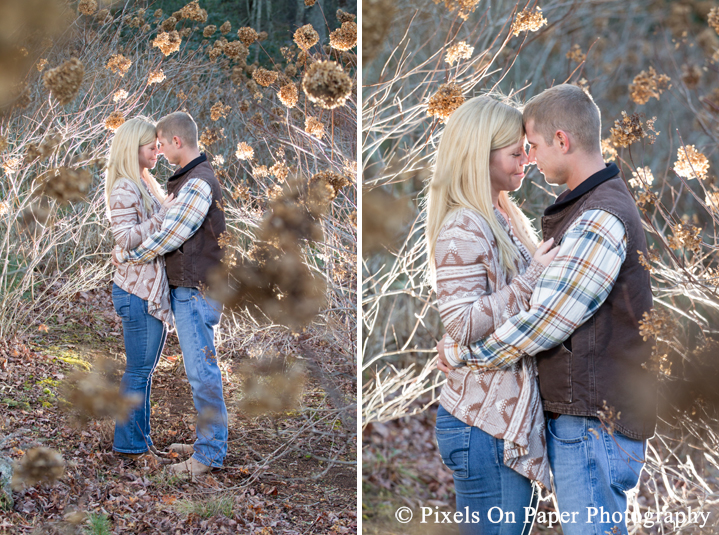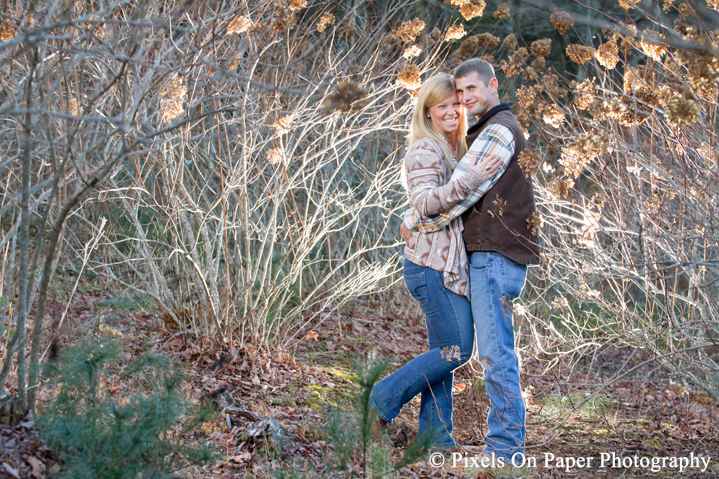 The fact that I can describe what I see as the final product to Ryan and together we can make it happen is still the most amazing feeling. We're a team in so many ways and without the other this just wouldn't be possible. PLUS, we have clients like Elisabeth and Isaac who will happily step into the middle of a bunch of dead trees that look drab and dull without any hesitation. WOW!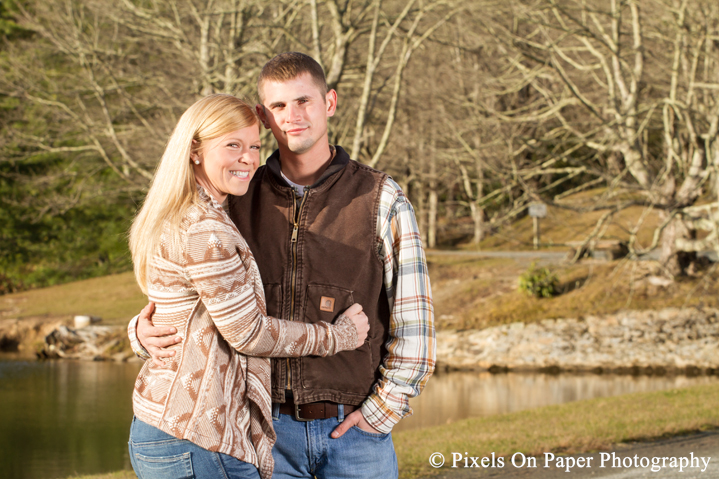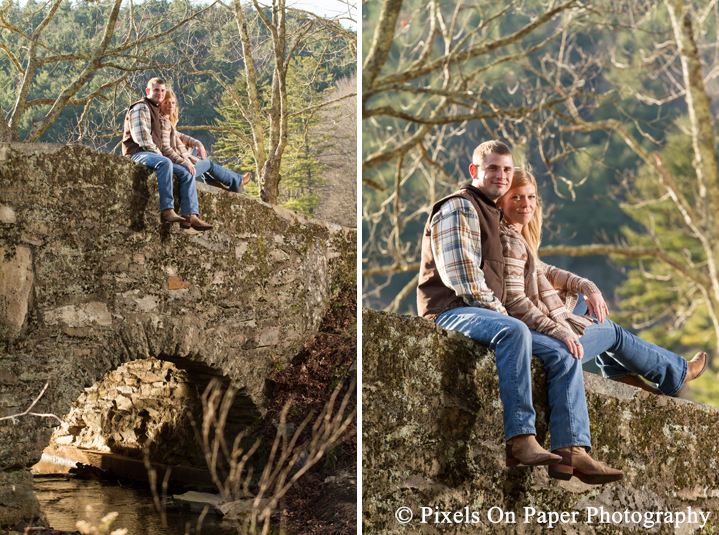 There was another incredibly tender and magic moment during this shoot that we didn't anticipate at all. Elisabeth and Isaac told us that they had hoped to write their own wedding vows, but with the wedding sped up it just didn't happen. All the other planning and details of the wedding ate up their time, so they ended up going with traditional vows. In preparing for their after engagement session, they decided to write their wedding vows and asked us to photograph them as they read them to each other for the first time. This was an enormous "whoa!" How beautiful to think of doing this and what a blessing for us to be there not only to take pictures but to bear witness! We found a picturesque setting that was private and romantic, set up a light, put on a zoom lens and then stepped way back, even out of ear shot. As they had their private moment we snapped away. I teared up during those minutes realizing how incredibly special this time was to them and honestly, I'm tearing up again thinking about it. Because of this and so many other reasons we can't help but feel a special connection with this couple.