We humans measure time in a thousand ways. Clocks …….. seconds, minutes, hours. And calendars …… days, weeks, months. Changes in seasons, hash marks in inches on door frames, tire wear, grey hairs, dimming light bulbs, sunrise, sunset,……… and growth of babies. Their facial expressions, ability to crawl faster and then walk signal the passage of time. We measured Sarah Grace's in photos.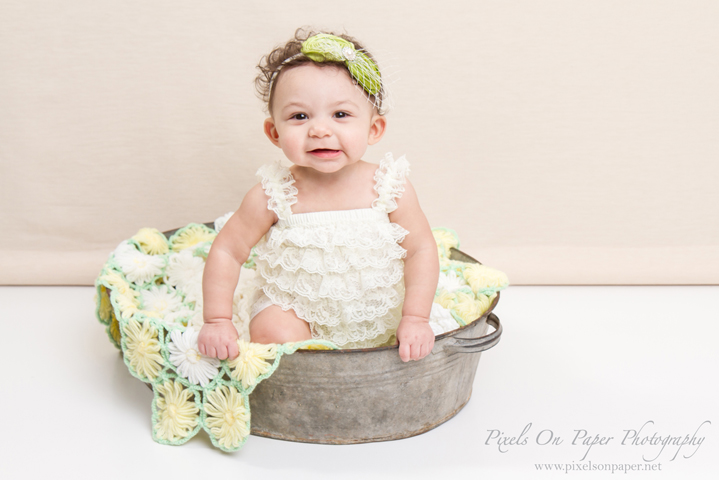 Remember these pics of Sarah Grace as a newborn? She was as good as any Easter bundle could be. In November of 2015, we took her 8 month portraits in our Wilkesboro studio. Sarah's mom had visions of her little charmer in a flower pot a la Anne Geddes. We all love those photos for their creativity and whimsy and at Pixels, we love props as well. This child, however, is not only too big now for planting in a flower pot, she's a girl on the go. Getting her to sit still took creativity of anther kind. Still, we used Geddes as inspiration and integrated an old washtub, daisy accents, ribbons and lace into her scene. Way to measure time: she's grown too big for a flower pot.
The pearls were meant to be purely a momentary distraction but pearls and diamonds are a girl's best friend and clearly Sarah meant for them to play a primary role by not allowing me to take them away once introduced. And you want to know another way to immobilize a baby on the move? Dump her cute bum in a basket. Ways to measure time: it takes 4-2 trips scooping up a crawler and placing her back in the basket to get the right shot.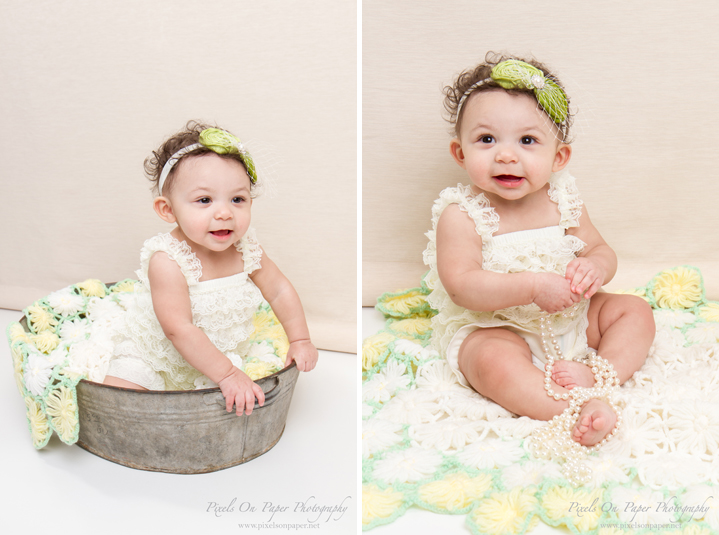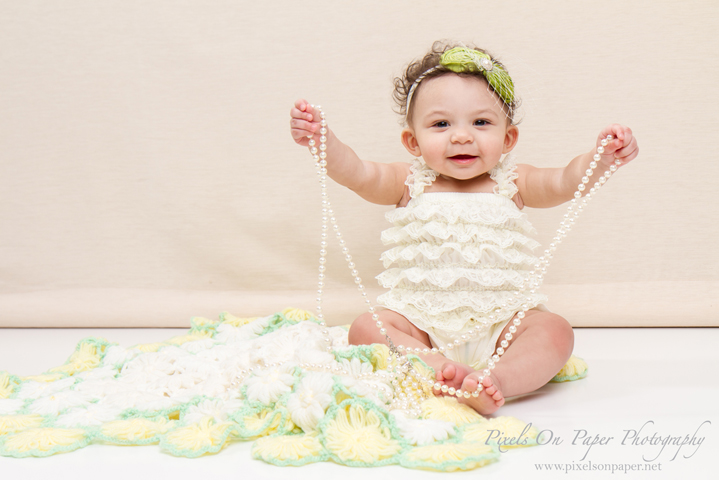 One of the things we love to do is work with clients to design wall art for their homes. It's yet another way to mark time: photos of your kids on the wall.
We believe that we aren't just capturing memories, we're creating heirlooms and even in a world of selfies and smart phones with cameras, you cannot get the same warmth and clarity that you can from a professional session.
From the beginning, I knew that we would be photographing Sarah Grace for years, so I began scouting locations, taking photos of her home and special spots where the family has wall space they can fill with photos.



Through our own software program, we can design to-scale images on the walls and show clients renderings of what their photos would look like before they buy. Rather than fill an entire wall with just newborn photos, I planned ahead, so we are designing their particular wall to reflect an entire year of portraits of Sarah. We started with a 16×24 newborn photo as an anchor and then added two 11×14 images from this 8 month session. After her one year portrait session, we will complete this wall with four 5×7 images.
We'll share the results with you when we can. In the meantime, we'd love to work with you and your family to take photos that will last for generations.