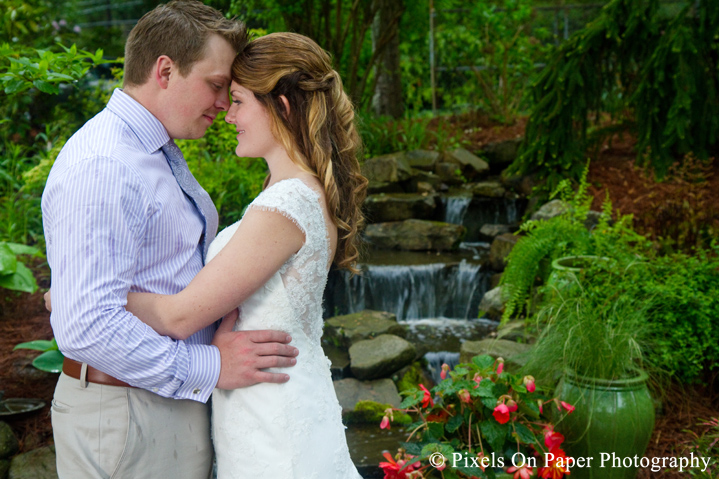 Denny & Kaitlyn live in Charlotte, NC but rather than have a Charlotte wedding they opted for a NC Mountain destination wedding in Hendersonville, NC. As husband and wife wedding photographers that love to travel anywhere anytime, a Hendersonville wedding was a wonderful opportunity for us to photograph in a new scenic backdrop.
The wedding venue was Raymond's Garden Center. Raymond's also grew and designed all the wedding flower arrangements and wedding bouquets.  The ceremony was in the middle of the nursery surrounded by all the flowers and trees you can imagine. A tent was on the property for the wedding reception. Although the skies were gray and overcast the weather was perfect for wedding photography and all the colors in the gardens and coral worn by the wedding party was vibrant.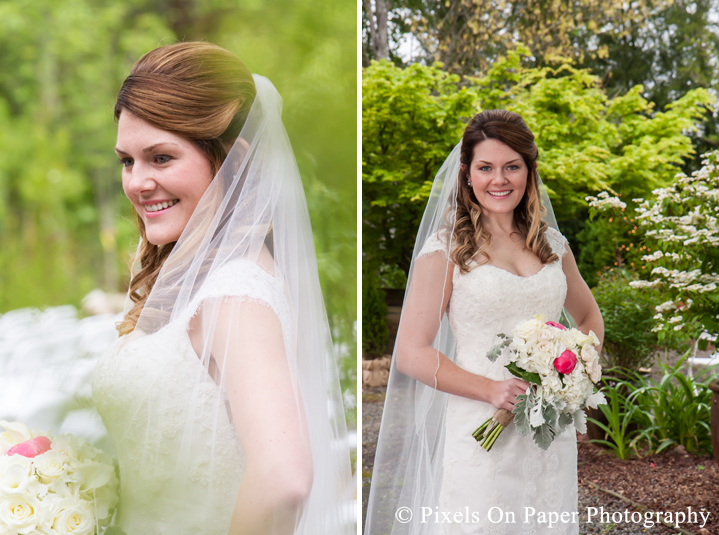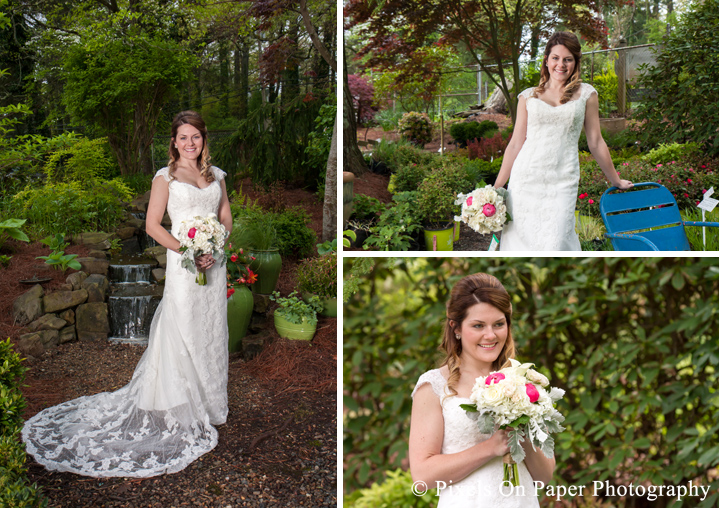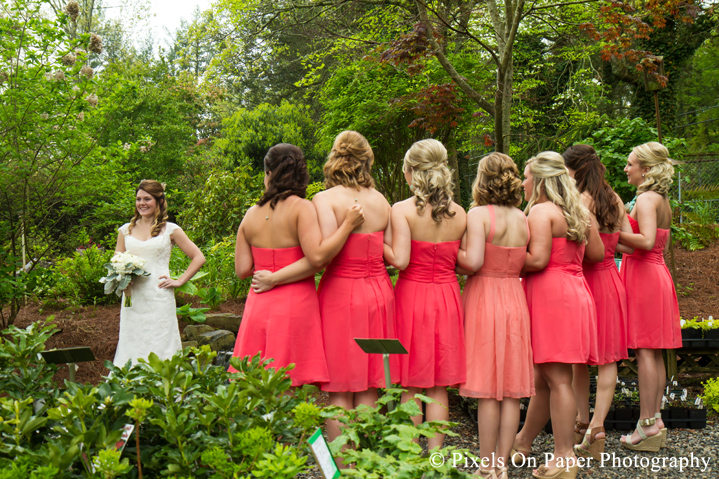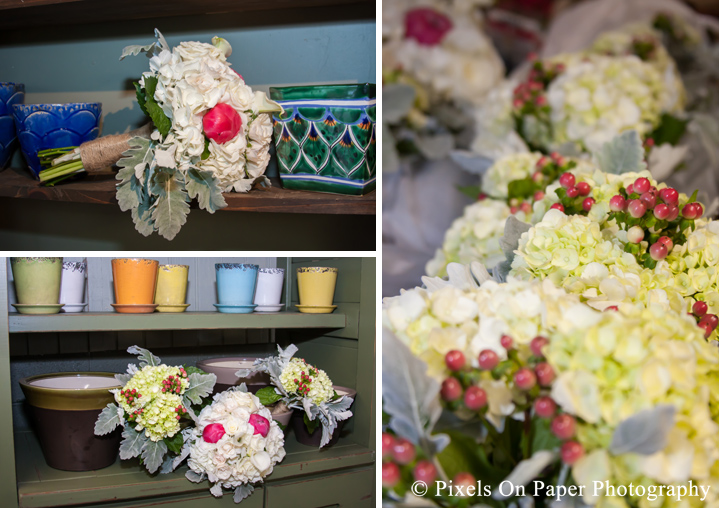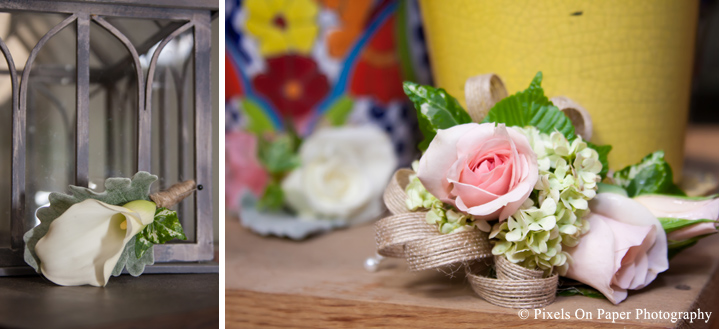 Kaitlyn and Denny shared a "first look" with with each other before the ceremony. This moment was a time to ease nerves and anxiety. It also allowed the bride and groom to have a time to themselves to relish in the moment before being surrounded by people and caught up in the rush of the rest of their wedding day. The grin on Denny's face when he saw his bride is a memory we'll never forget and with us photographing that moment from a distance never will they.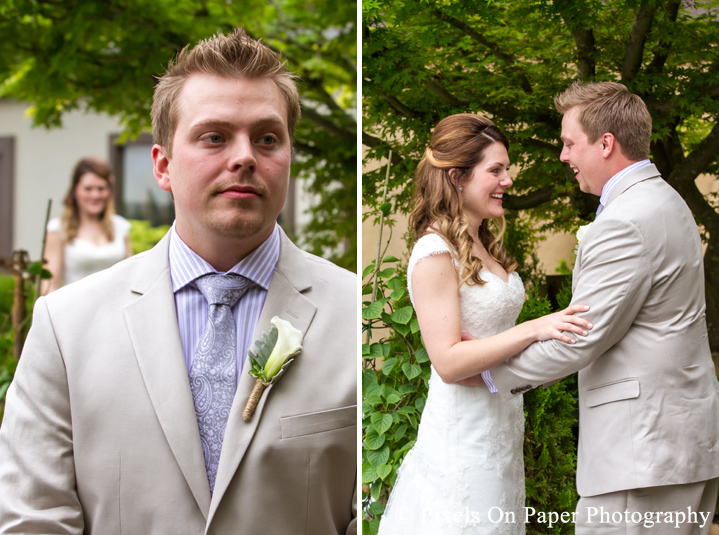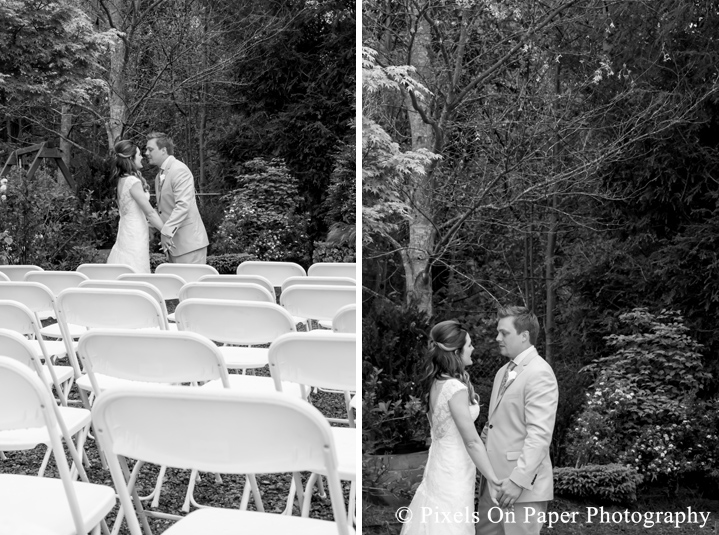 As the wedding ceremony began the rain also started to fall. Everyone took it in stride. Kaitlyn at one point during the ceremony looked up to the sky and smiled as if nothing was going to dampen her day. Even rain can't take away from the beauty of NC Mountain weddings. They finalized their vows and Denny sealed it with a very romantic dip and kiss as husband and wife.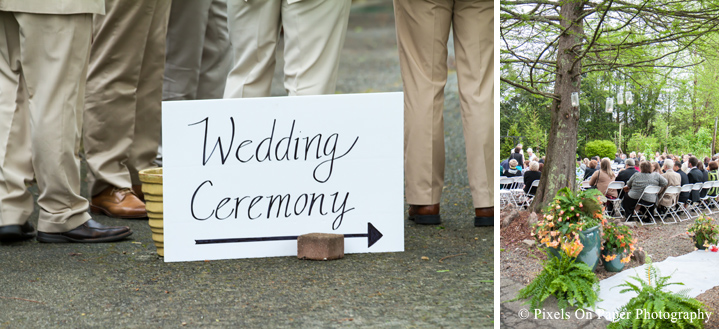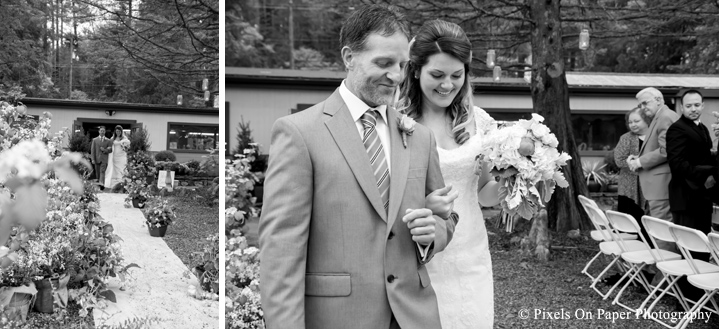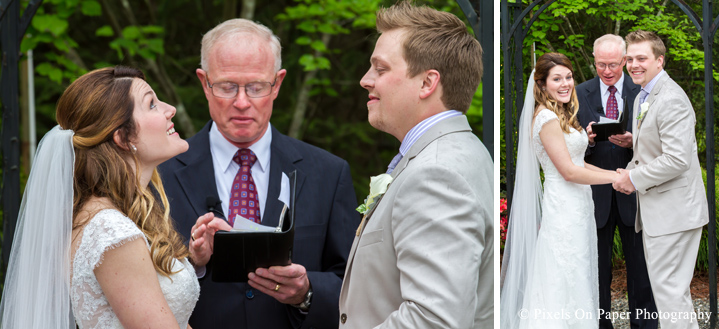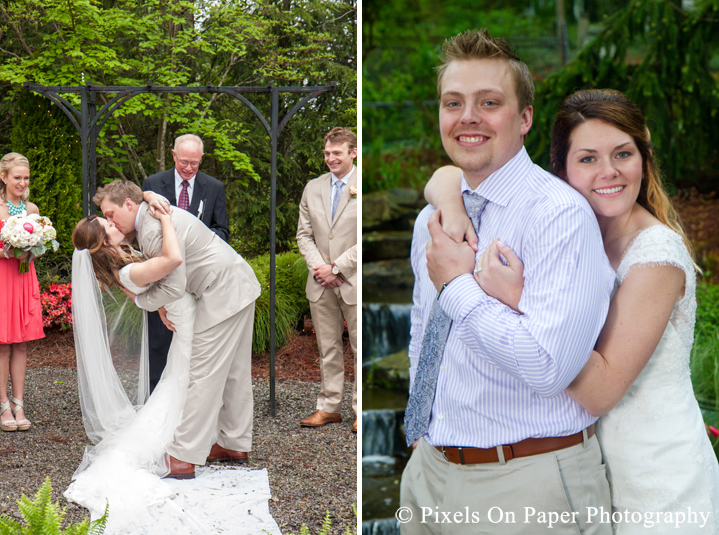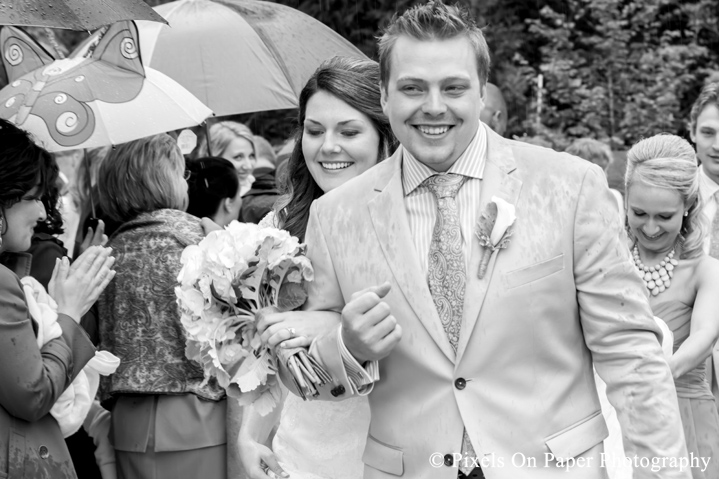 The down-pouring rain encouraged us to get creative with post ceremony wedding photos. We found a hidden treasure inside one of Raymond's greenhouses.
After photos everyone was ready to celebrate under the shelter of the tent. And party they did. The dance floor stayed hopping all night thanks to Gordon Hensley of Digital DJs, one of our favorite wedding vendors to work with who is also located in the NC High Country.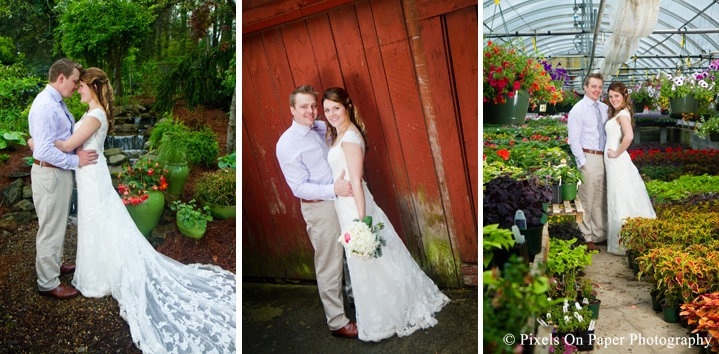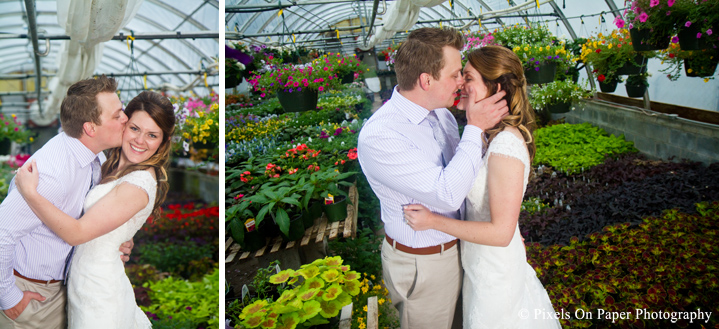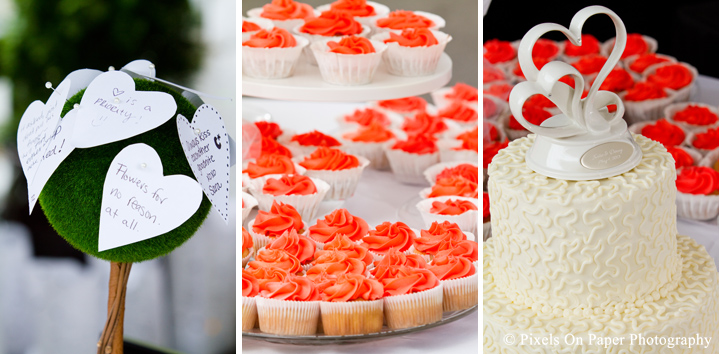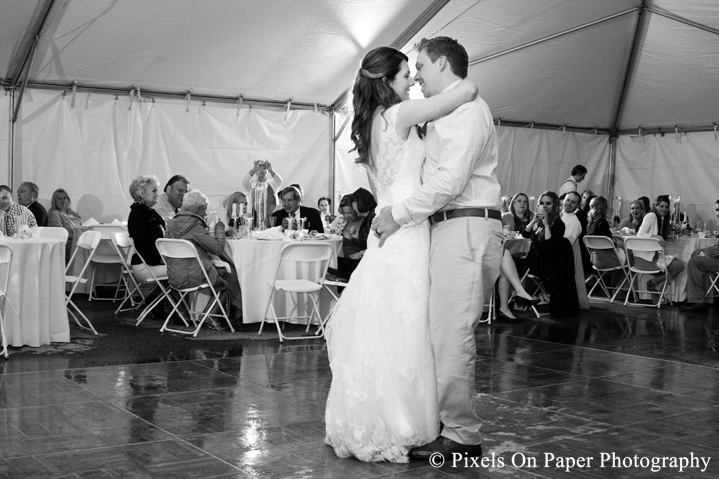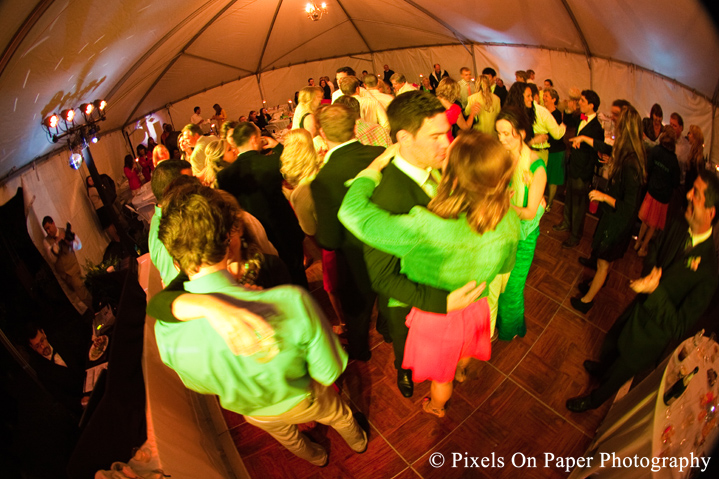 It was such an honor to be a part of this wedding and we are grateful to Denny and Kaitlyn for choosing Pixels On Paper as their wedding photographer and allowing us to capture their photography and memories from their beautiful NC mountain destination wedding.
Photography: Pixels On Paper
Location: Raymond's Garden Center
Entertainment: Digital DJs
Cake: JoAnne Baber
Flowers: Raymond's Garden Center & The Flower Market
Bride's Gown & Veil: Mecklenburg Bridal
Want to learn more about our husband and wife team providing wedding photography packages and portrait photography in the NC Mountains, Wilkesboro NC and the NC High Country and packages for NC Mountain destination wedding photographers? Call 336-990-0080, visit our website www.pixelsonpaper.net or send us and email at mail@pixelsonpaper.net for more information.

This work is licensed under a Creative Commons Attribution-NonCommercial-NoDerivs 3.0 United States License
All photos are ©2013 Pixels On Paper. Pixels On Paper Photography Hendersonville NC Wedding, Asheville Wedding Photography, NC Mountain Weddings, NC Mountain Destination Wedding Photography, NC Mountain Wedding Photographer, Boone Wedding and Portrait Photographers, Boone Wedding Photography, Boone Wedding Photographers, High Country Wedding Photographers, NC Wedding Photographers, Charlotte Wedding Photographers.  Husband and wife team providing creative photography for weddings and portraits in NC, specializing in the NC High Country,  Charlotte, and NC Mountain Destination Weddings.