You can look at a couple and sort of see when they're at the beginning of a relationship, of their journey together, or the beginning of something big. I love this scene from The Secret Life of Walter Mitty. He's been daydreaming in hyper-drive about her, obsessing about what "they" might be and FINALLY – at the end (it's a movie, folks, you know how it works), they begin what might be an actual love affair.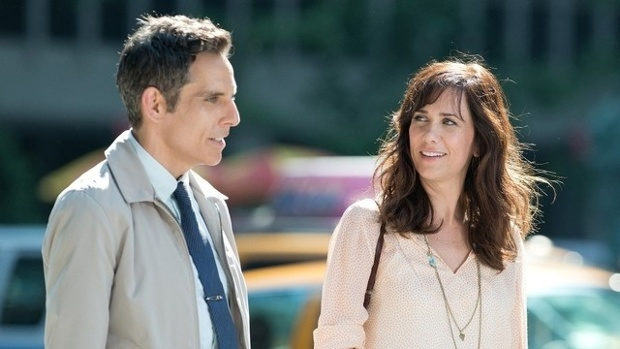 So, now you're engaged! Tell us how it happened. Flash mob dancing to or singing your favorite song? A video journal with all the memories leading up to falling in love? Scavenger hunt? Did you order a pizza and just decide "let's do this!?" Regardless: congratulations! You're at the beginning and this is where we come in as seasoned husband and wife and experienced engagement and wedding photographers. Whether they are indoor portraits or outdoor shots at your favorite spot, we know how to capture the beginning of your life together, tell your story and make it fun.
AND! Engagement portrait sessions are complimentary in most of our wedding photography packages.
We take engagement portraits pretty much anywhere and everywhere our clients ask us to and so far we haven't had any request too audacious. We always ask couples to think about a place that means something to them and we'll make it work. There's something about your first official portraits together as a To Be Married pair, so we want you to be relaxed, excited (you can do both!) and let us handle the results. Engagement portraits are a way for us to get to know our wedding clients better. We get to learn about you, see how comfortable you are in front of the camera and help you increase your comfort level before the wedding day. It's great practice in posing, and figuring out if you can be candid in front of the camera without our guidance or if you need a little coaching. We're on YOUR team, so we love the engagement session because it's an opportunity to create a level of familiarity and comfort.
As you plan your big day, don't forget the engagement portraits can be dressy or casual and given as gifts, put on your wedding website or save the date cards or just sent out to friends via social media. Whatever you decide though, these shots are important and you'll never regret having them made.
We were also the wedding photographers for each of these couples above and hundreds of others. If you're looking for photographers for your engagement portraits and wedding day in 2017, it's not too soon to start planning and booking. I know…. it's the second week of January, but you'll be glad you did. Contact us and let's get started.
We love family portraits whether they are set in the studio, the great outdoors, a specific location like the mountains or high country, or on our property in our outdoor portrait garden. Pixels on Paper photographs, engagements and weddings, brides, and special events and portraits  of all kinds in our Wilkesboro, NC studio. We would be honored to meet with you, learn about you and your family and be a part of taking special portraits that will become, we hope, family heirlooms.