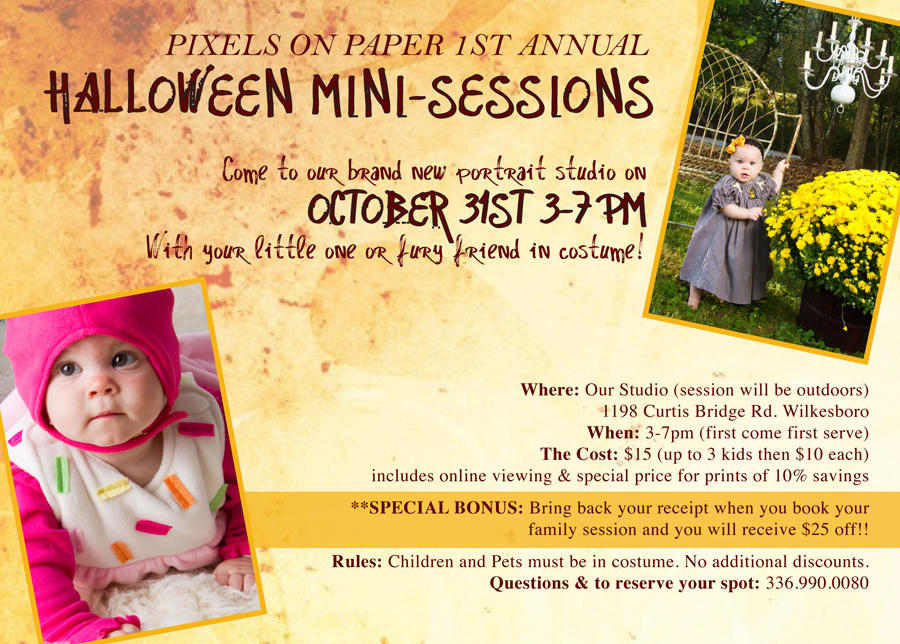 Hard to believe that Fall is here and Halloween is literally just around the corner. It's OCTOBER ALREADY! In regards to some aspects we're blown away with how quickly this year has gone by but then it seems a little slower with regards to others  (think studio construction).
The BIG news? We are only a matter of weeks away from officially moving into the new studio! We'll still be shooting on location anywhere and everywhere you can imagine. But the best part is that we will not be in search of indoor locations during the winter months. And we're really really excited about all the cool backdrops we get to design and stuff that's going to be re-purposed.
The new studio address:
1198 Curtis Bridge Rd., Wilkesboro NC if you use GPS 1198 Johnson Lane seems to be the key.
Note that initially we will be open by appointment only.
Since we're already working at the studio, and it's Halloween time, and you have cuties dressed as a vampires, zombies, princess, super heros and some of you have fur-babies dressed as hot dogs, ghosts and Yoda (you know you've seen that one) or whatever they may be… bring them to the Pixels On Paper portrait studio on October 31st between 3pm-7pm for a quick mini-shoot! Sessions will be outdoors (just like the ones in the picture) and be about 15 minutes in length. The fee is $15 for up to 3 children. More than 3, the fee is $10 per additional child. You will receive online viewing of the pictures, and a special 10% off print rate.
Rates for Halloween prints before the discount:
Set of 8 wallets: $10 | 5×7: $12 | 8×10: $20 | 11×14 mounted on styrene: $40
Want to know the best part? Simply bring in your receipt from the session when you reserve your spot for your family session and you will receive $25 off your session fee for your family portrait session! Essentially, you are getting this Halloween session free!
The fine details: First come, first serve. Children and pets must be in costumes. This is not a family session, sorry. No additional discounts apply.
You are welcome to just show up, but it would be much easier if you could either call us 336-990-0080 or email misty@pixelsonpaper.biz to reserve your spot so we know how much treats to have for the kiddie-o's!
We look forward to seeing you!