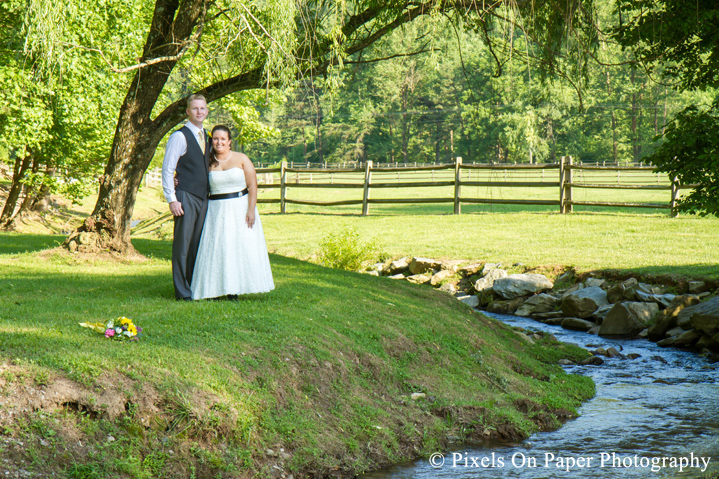 Wedding shows are always a lot of work for us, but it is such a rewarding experience when we get the follow up from a couple we have had a few moments to chat with in a crowded exhibit hall. We love getting the opportunity to hear a bit of a couple's story, but let's be honest, the shows can be overwhelming for a couple to attend and leaves very little time to get all the juicy wedding day details. So when Amber and Clark scheduled a follow up consult at our Wilkesboro photo studio after attending the ACES fall wedding show at Appalachian State University, all the hard work to participate in the show paid off.
After the show, we had the chance to meet with these Salisbury native in our Wilkesboro photo studio and learn more details about their NC mountain destination wedding at Leatherwood Mountains in Wilkes County. Their ceremony was going to be a fun filled day with lots of DIY touches and family help. Not to mention their love for all things Appalachian State University and the simple touches of ASU that would be incorporated into the outdoor wedding festivities.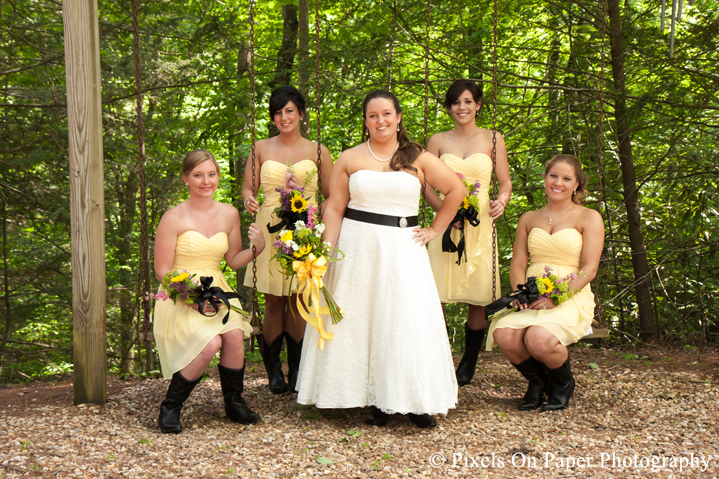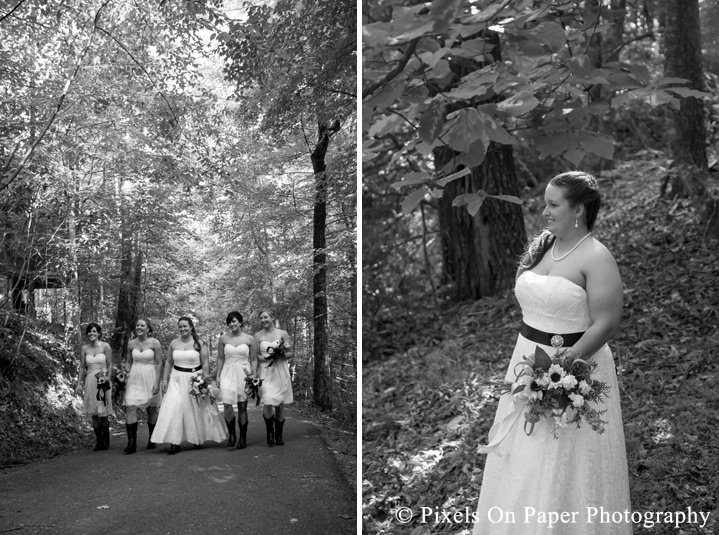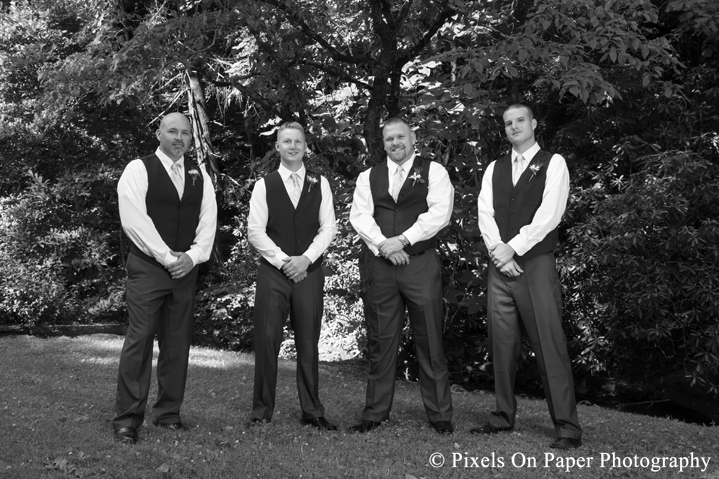 The Leatherwood Mountains cabin stage was the location they chose to say their vows, with the covered pavilion for the reception. With Amber being a graduate from App State, it was certain that the black and gold colors would play a prominent role, both in the bridesmaids dresses, but also in the floral arrangements, all the way down to the tailgate style reception.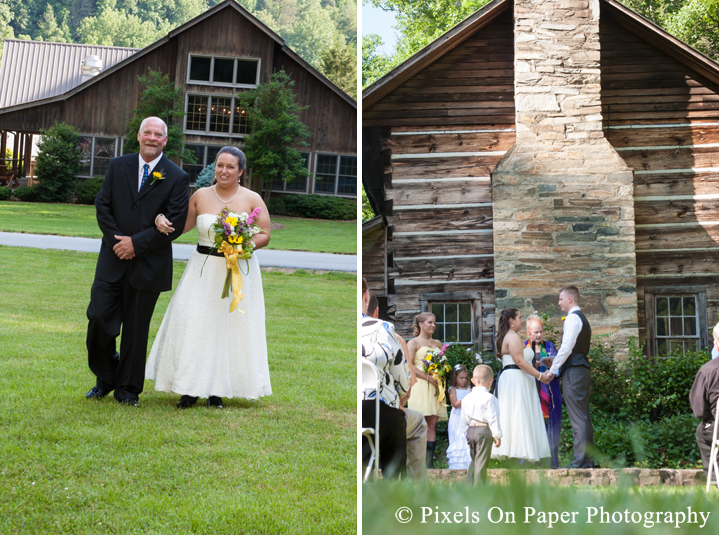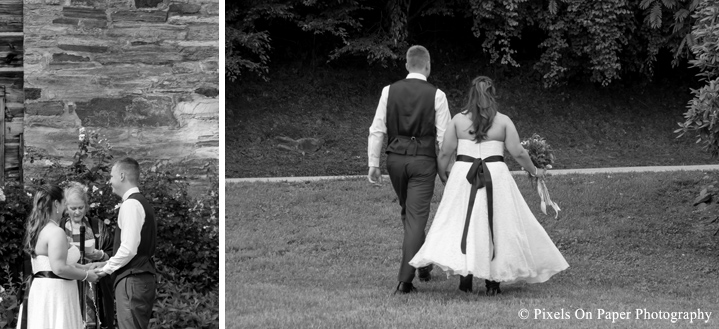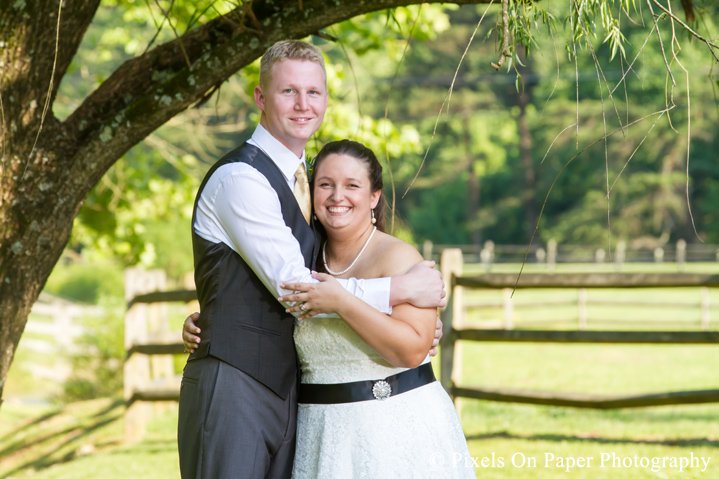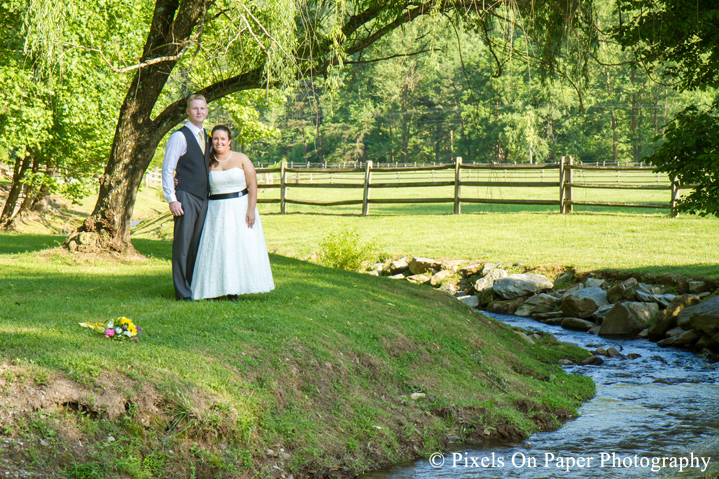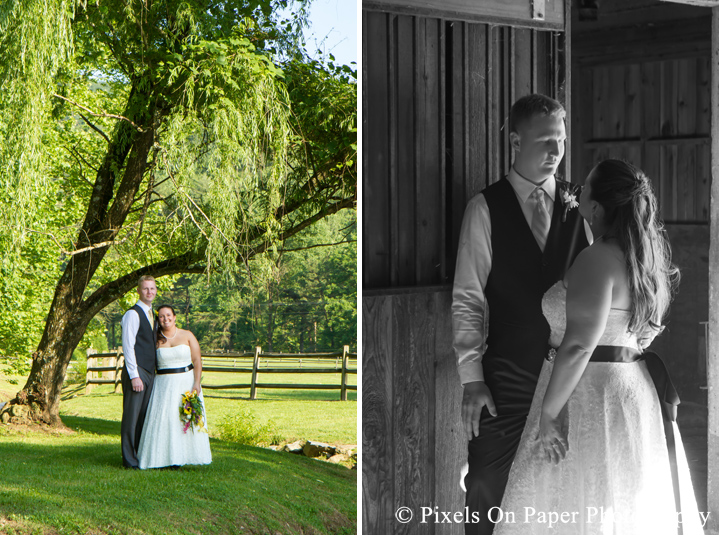 After the post-ceremony photos were complete, Amber and Clark made a grand entrance into the covered pavilion through the crowd of guests waving their black and gold streamers.  Having spent a lot of time in Boone  NC while at ASU for college, Amber had Woodlands BBQ cater the diner, because everyone (including Ryan) LOVES a good pig pickin'! Virtual Sounds Entertainment was on hand to make sure that this party went long into the night. With all the dancing guests and former ASU cheerleaders there was lots of dust kicked up on the dance floor!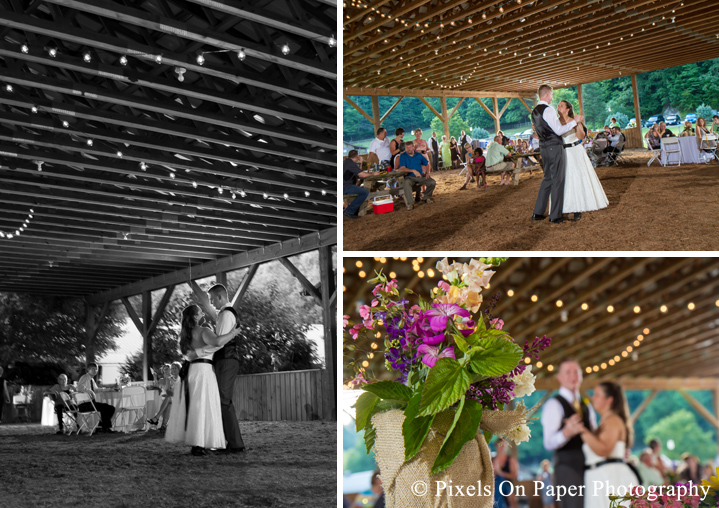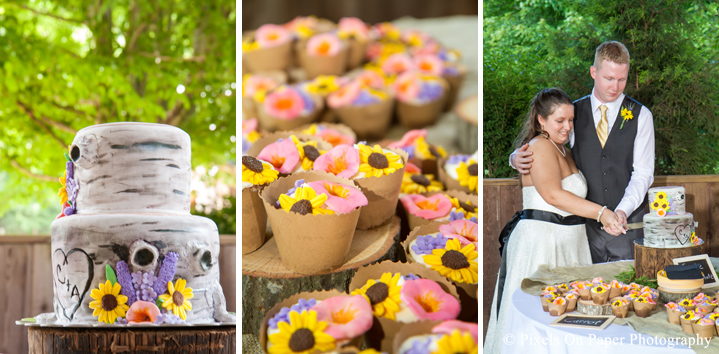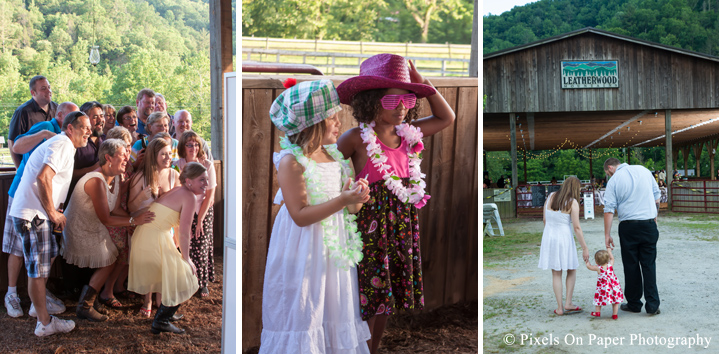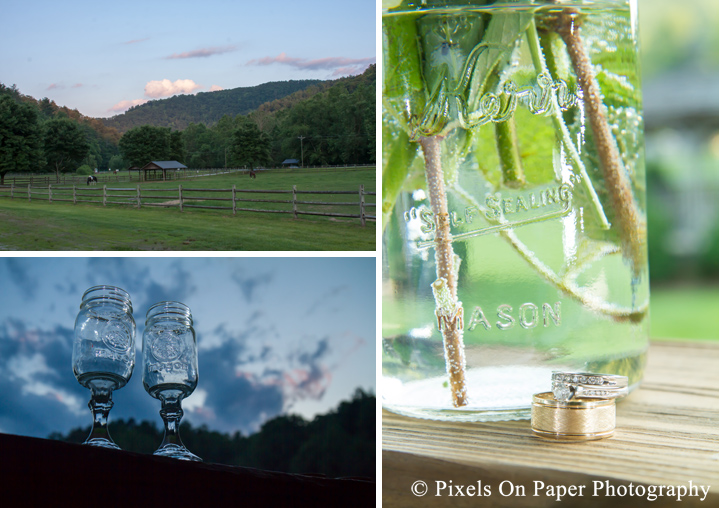 We wish Amber and Clark all the best as they start their new life together as husband and wife!
Want to learn more about our wedding photography packages or portrait photography in Boone, Blowing Rock, Wilkesboro NC  and the NC High Country or for NC Mountain destination wedding photography? Call 336-990-0080, visit our website www.pixelsonpaper.biz or send us and email at mail@pixelsonpaper.biz for more information.
This work is licensed under a Creative Commons Attribution-NonCommercial-NoDerivs 3.0 United States License
All photos are ©2013 Pixels On Paper. Pixels On Paper Photography Wilkesboro NC Wedding, Boone NC Wedding Photographer, NC Mountain Weddings, NC Mountain Destination Wedding Photography, Ferguson NC Wedding, Wilkes NC Wedding, Blowing Rock, NC Mountain Wedding Photographer, Boone Wedding and Portrait Photographers, Boone Wedding Photography, Boone Wedding Photographers, High Country Wedding Photographers, NC Wedding Photographers.  Husband and wife team providing creative photography for weddings and portraits in NC, specializing in the NC High Country,  Charlotte, Destination Weddings and in the NC Mountains.