The cat who ate the canary. Seriously, she just knocked off her 3rd bank. Or more likely, her minions did it and just called to let her know that the funds have been successfully transferred into her account off the Cayman Islands. And there's a cell phone somewhere buried in all of that cotton. She's sittin' on it. And laughing at all of us. LOOK AT THAT FACE!!! Who would convict her? Not me.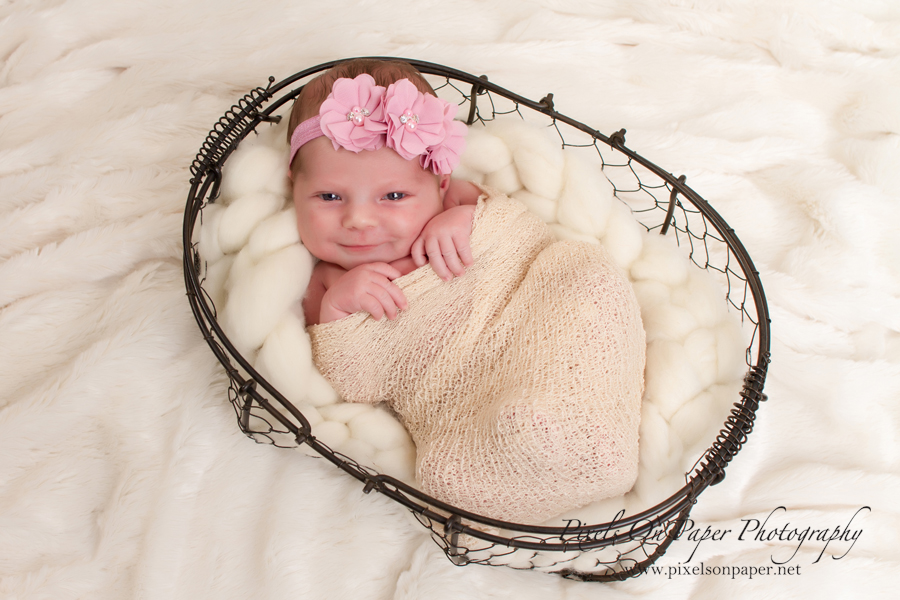 This perfect little imp, this little stealer of hearts, is Sawyer Jane. Great name, right? We took these photos in our portrait studio in Wilkesboro, North Carolina and the truth about this photo is that I had no hand in getting her to look right at me and grin like that. I just let the lens do it's thing and knew when to pull the trigger. Her grandmother and mom, Jamie both marveled at that shot above and I just smiled, shook my head and said, "I had nothing to do with it. God is better than I deserve and he equips me with what I need every day."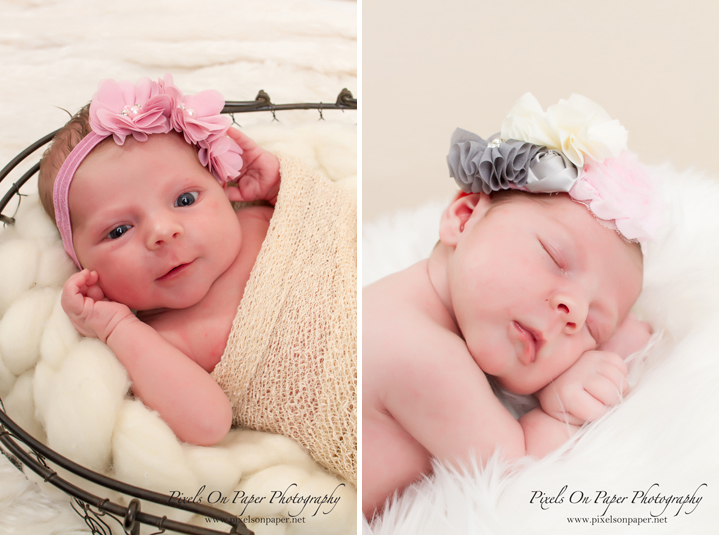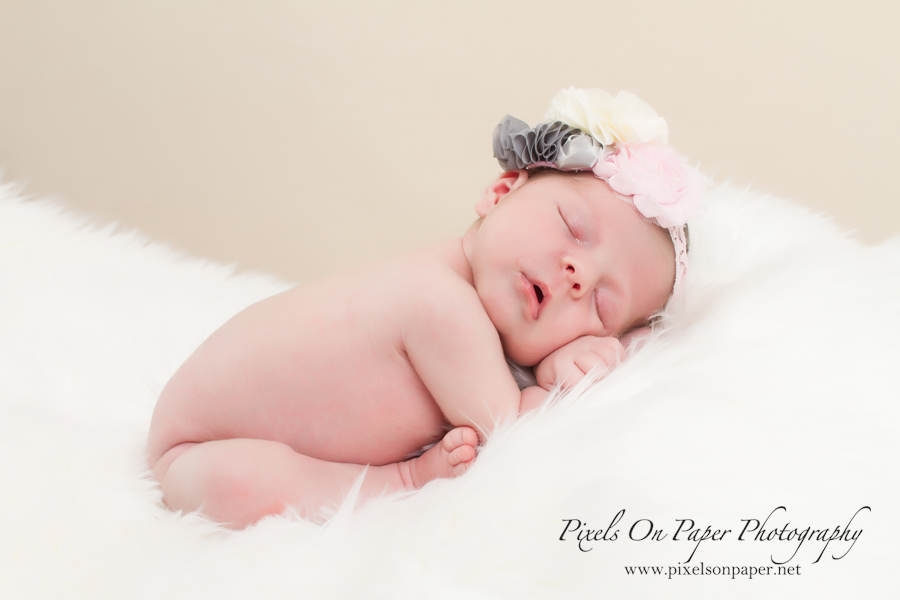 So here's a little thing about taking portraits of newborns: you have to have lots and lots of patience. The photographer has to have it, the parents have to have it. It's just the way it is. An average newborn session can take 3-4 hours and not all of that time is spent in front of the camera. It's mostly time spent feeding, changing, burping, soothing, and getting the little one back to sleep.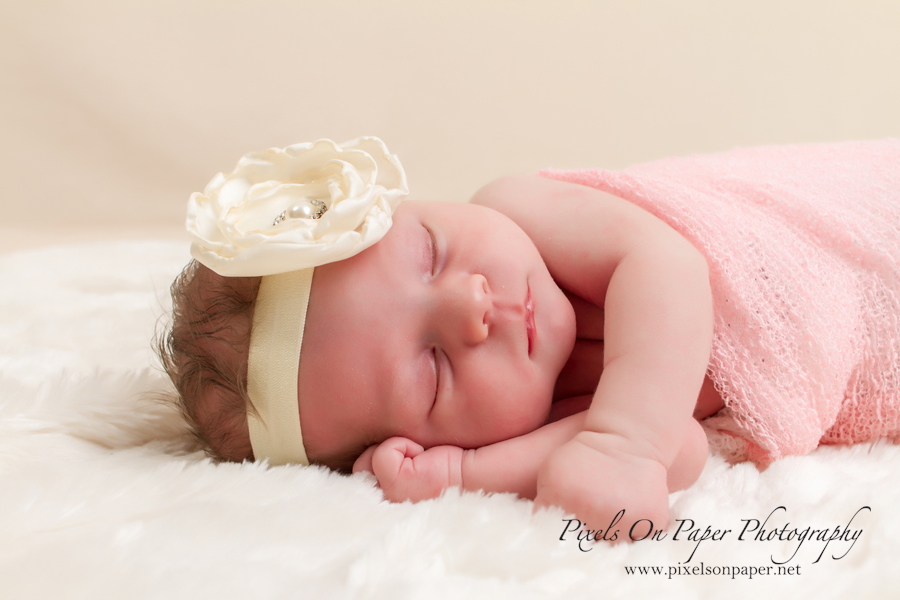 What always sticks with me and makes me smile and empathize is that every parent thinks their baby performed terribly or won't show well in the finished photos. They worry that their baby cried too much or didn't show personality or whatever. And a phrase I've heard 1000 times if I've heard it once is, "we just hope that you got one or two good ones." I hear it all the time. The fun part is that they show back up for our PreView saying that very same thing right up until the moment I start the slideshow. They're overcome with emotion in seeing all the great photos of their sweet baby. Jamie, along with every other mom, has that moment of "awwwwww. Oh my gosh, LOOK!!!" To say it's rewarding is this week's understatement.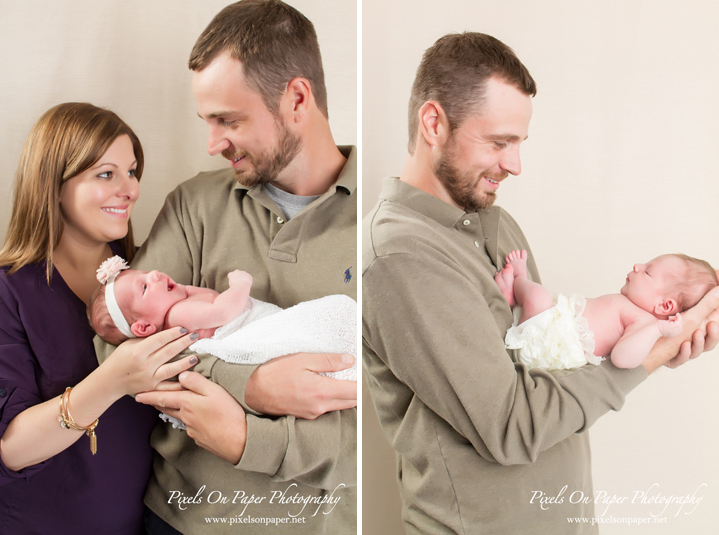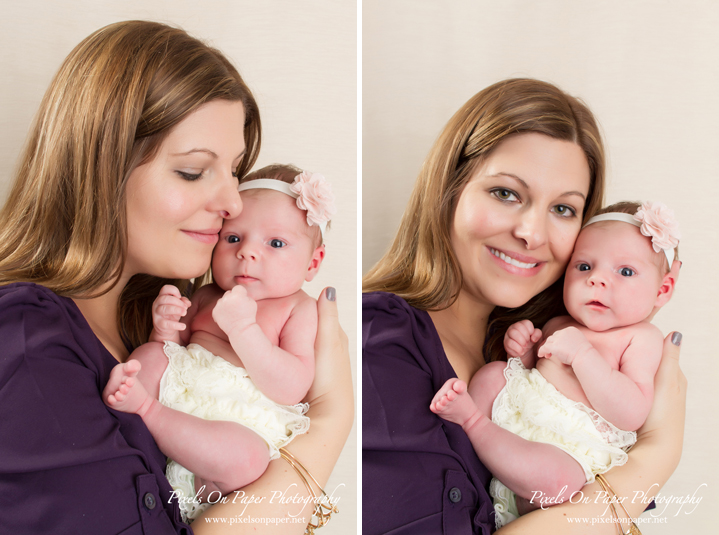 Jamie and Dad Joe were newlyweds and then – BAM! – this little robber showed up. I love photos of parents cradling their newborns, especially the first born. The whole thing is rife with excitement, awe, natural worry, tenderness and all the fresh outrageousness that teeny humans bring with them to the world. I say this a lot but I mean it every time: we love watching the growth of newlyweds into solid marriages, marriages into families, babies into kids and the multiplication of love in each of those transitions. We've added Sawyer Jane, Jamie and Joe to that category.
We'd love to photograph your sweet lamb, whether he or she is on the lamb or not. Call 336-990-0080 or email mail@pixelsonpaper.biz and please view other baby blogs and our website.
We love family portraits whether they are set in the studio, the great outdoors, a specific location like the mountains or high country, or on our property in our outdoor portrait garden. Pixels on Paper photographs babies and kids, engagements and weddings, brides and special events and portraits of all kinds in our Wilkesboro, NC studio. We would be honored to meet with you, learn about you and your family and be a part of taking special portraits that will become, we hope, family heirlooms.