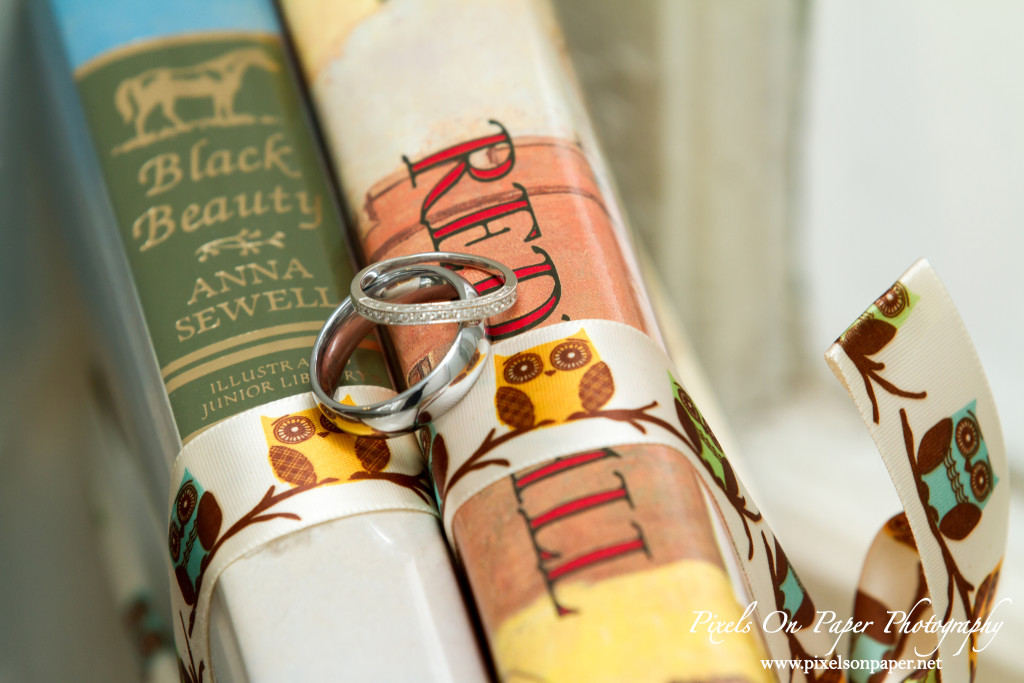 This is where it began. Two book lovers. Two romantics. Elizabeth and Kyle met working at a game store in college, realized they were both nuts for Dr. Who, books and each other. These two feel like family already to us and in fact their extended families do as well. We photographed their engagement portraits (a BLAST) and Elizabeth's bridal portraits (gorgeous and romantic) and now, finally, the big day – just one month ago. It's one for the books, for sure.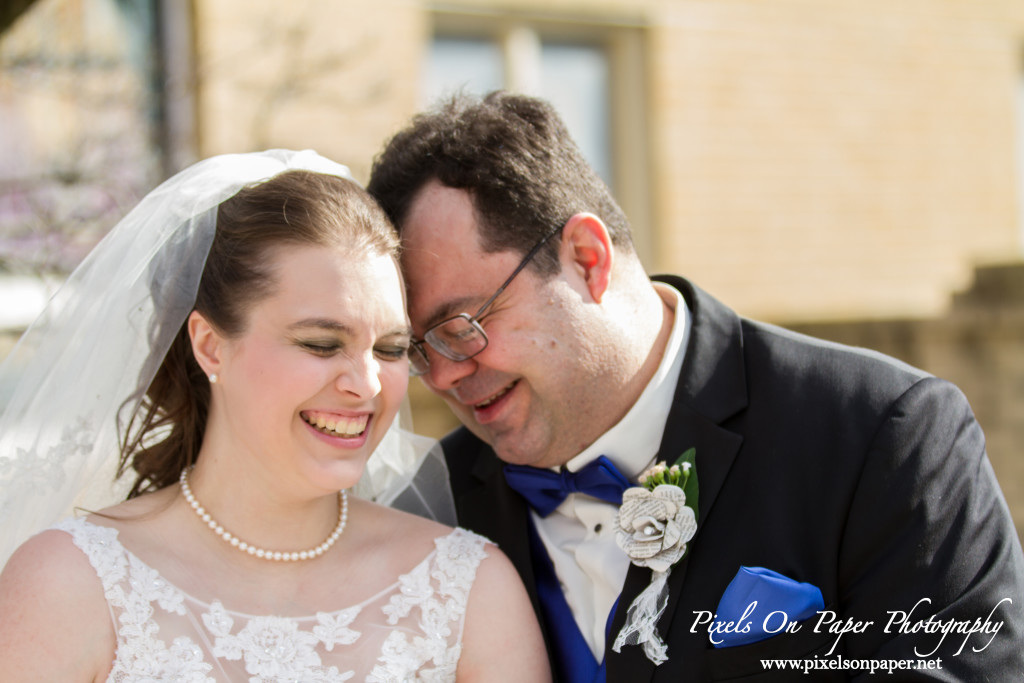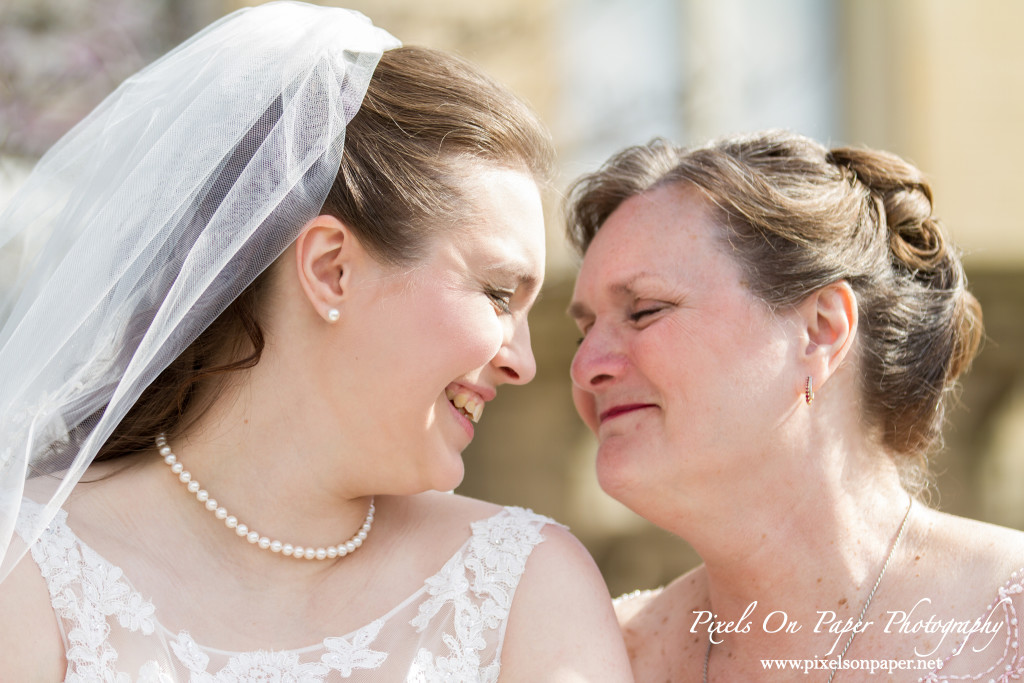 Everyone was emotional, naturally, but what we noticed most was how much unbridled love they all have for each other. Seeing Elizabeth with her parents was priceless.
Expectant groom Kyle was nervous and serene, fun with his groomsmen as was Elizabeth with her bridesmaids and bridesman. If you haven't revisited their engagement session or her bridal portraits, there is a very cool detail in the bouquets and boutonnieres. They were all HAND-MADE with pages from each person's favorite book. The color in the bouquets, groomsmen's vests and elsewhere? Dr. Who "blue."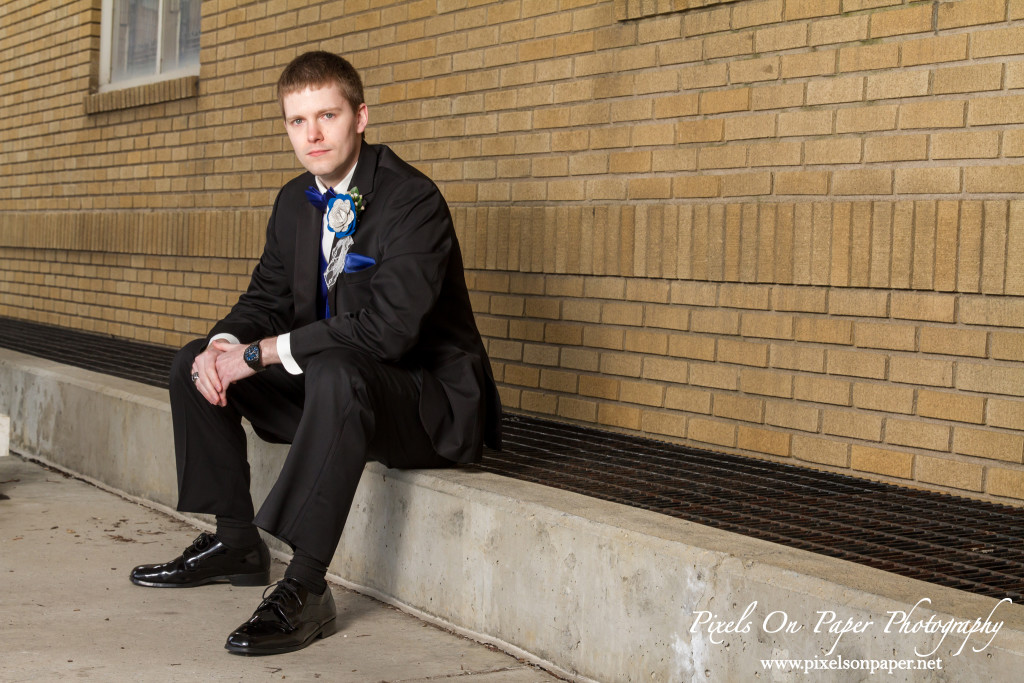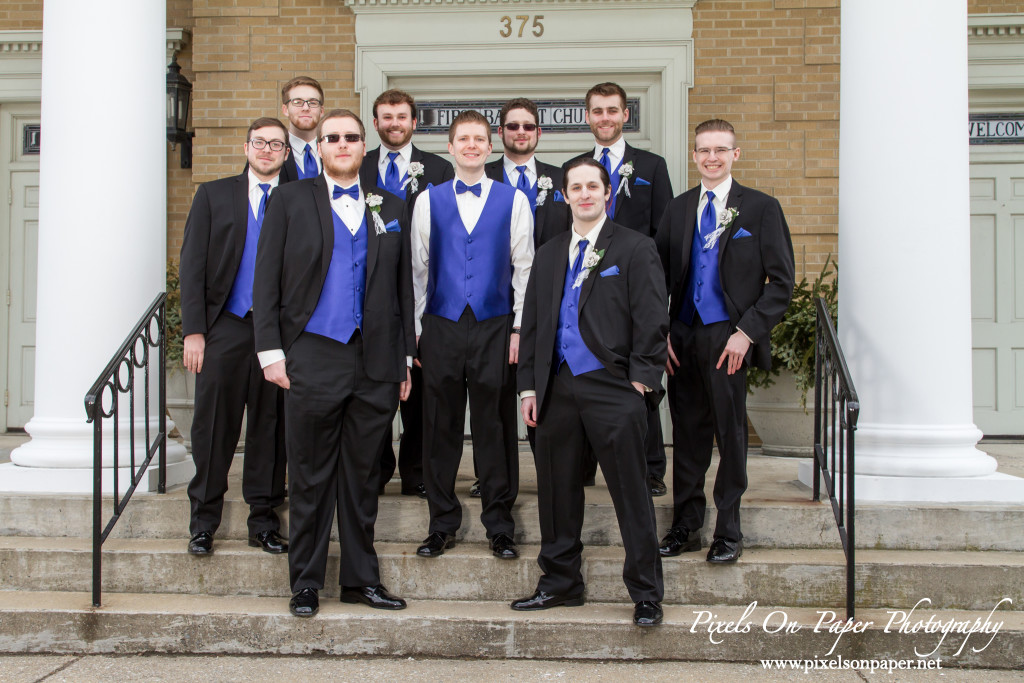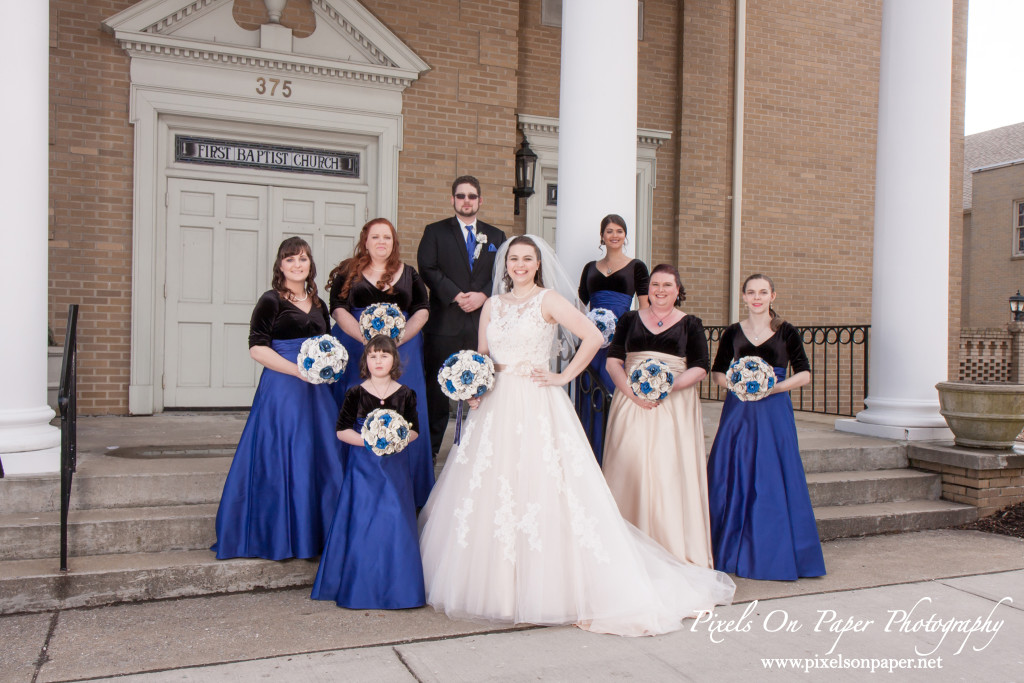 Elizabeth and Kyle's wedding took place at the First Baptist Church in Boone, NC and the reception was held at The Green Park Inn in Blowing Rock, NC. Family members played major roles. Sometimes this is the case, but not always. Elizabeth and Kyle included many friends from childhood and college as well.
Some memorable moments for us: Kyle saved a voice message from his recently deceased grandfather congratulating Kyle on his engagement to Elizabeth and it was played during the unity portion of their ceremony. Everyone wept, including us. A recording of Elizabeth's deceased Godfather singing was also played. We loved their thought and attention to detail.
Another fave….. Kyle and Elizabeth's four grandmothers were the flower girls! It was seriously one of the best ideas that I've seen at a wedding and the Grandmothers loved it.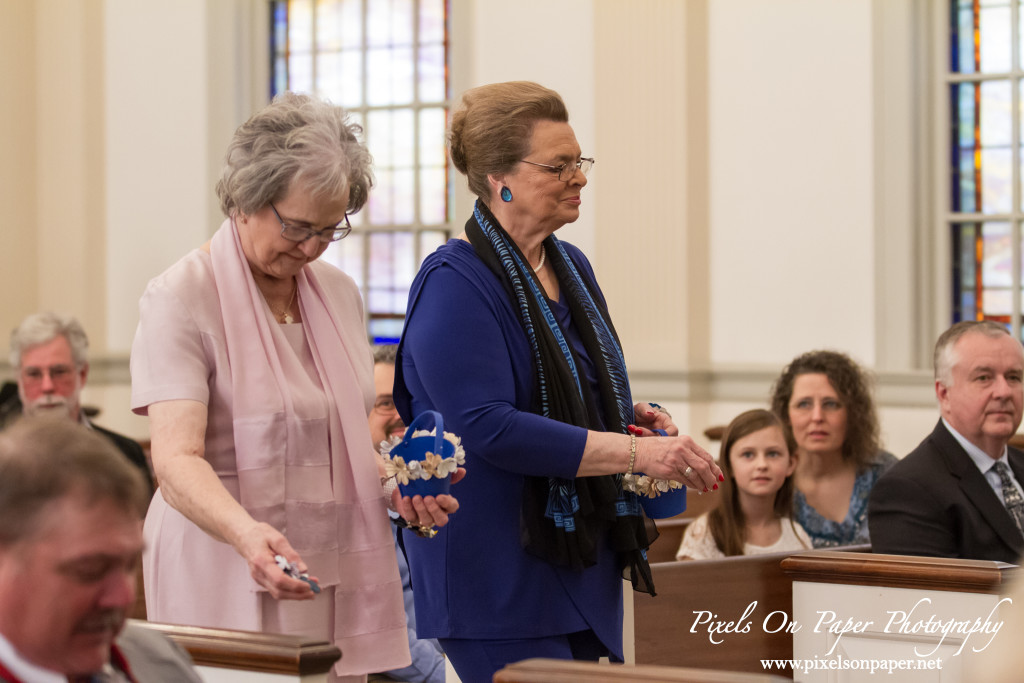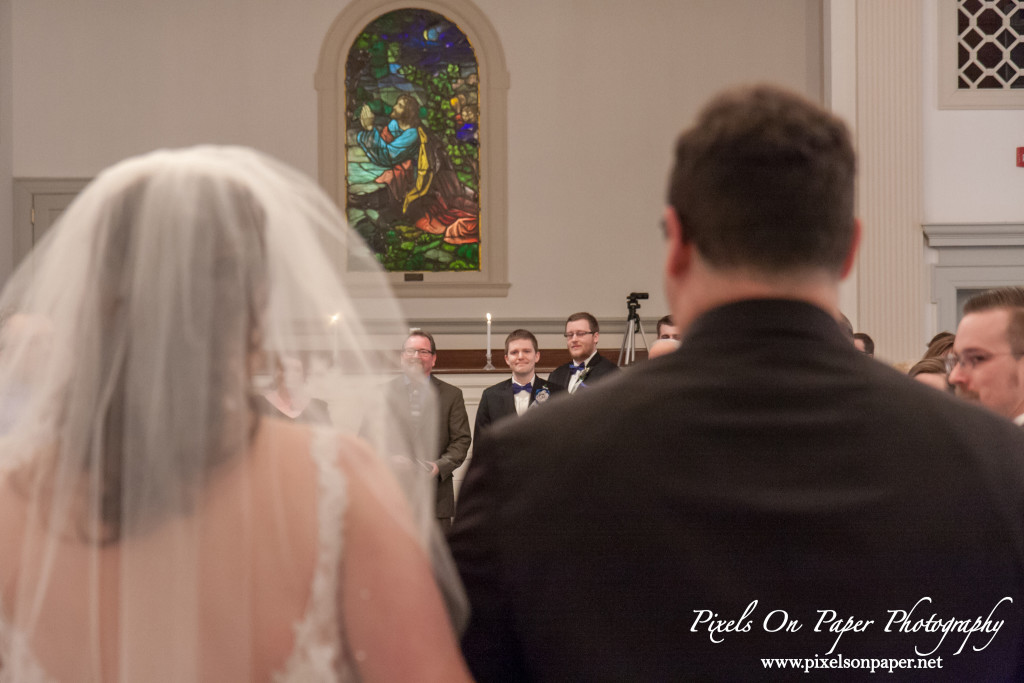 When we asked about most memorable moments Kyle and Elizabeth were in lock step.
Kyle: "I cried when I first saw Elizabeth walking down the aisle. She had the biggest smile you could imagine on her face while silently mouthing to me 'do you like it?' in reference to the dress. It's an image that is burned into my memory."
Elizabeth: "My favorite moment of the ceremony was seeing Kyle waiting at the end of the aisle and watching him watching me.  He never stopped looking at me and I could tell in that moment that he was sure of every decision that led us to that moment."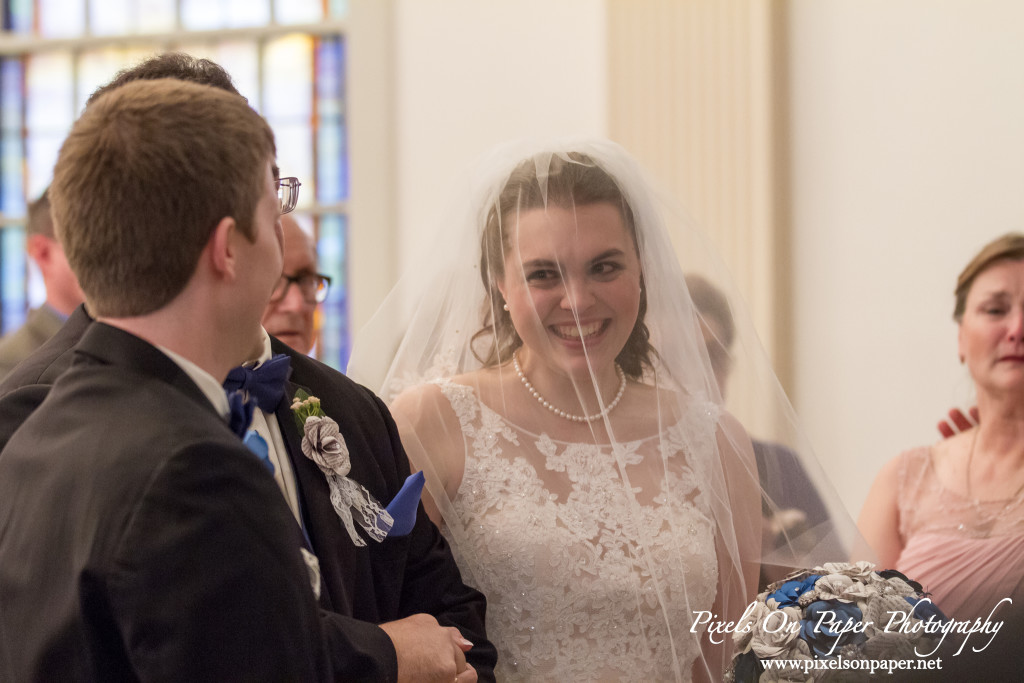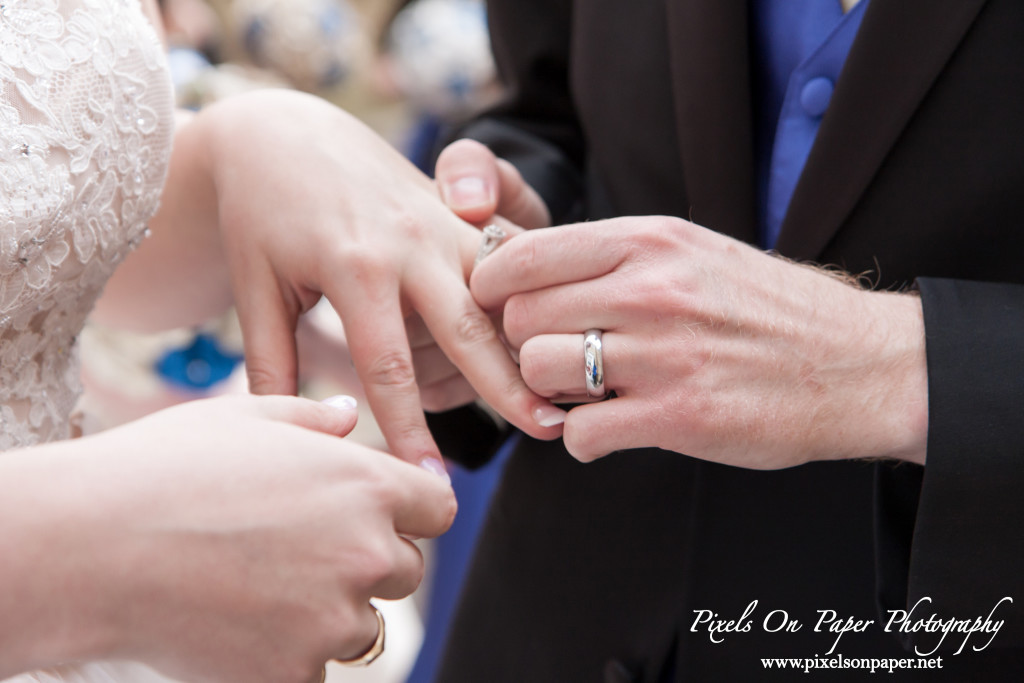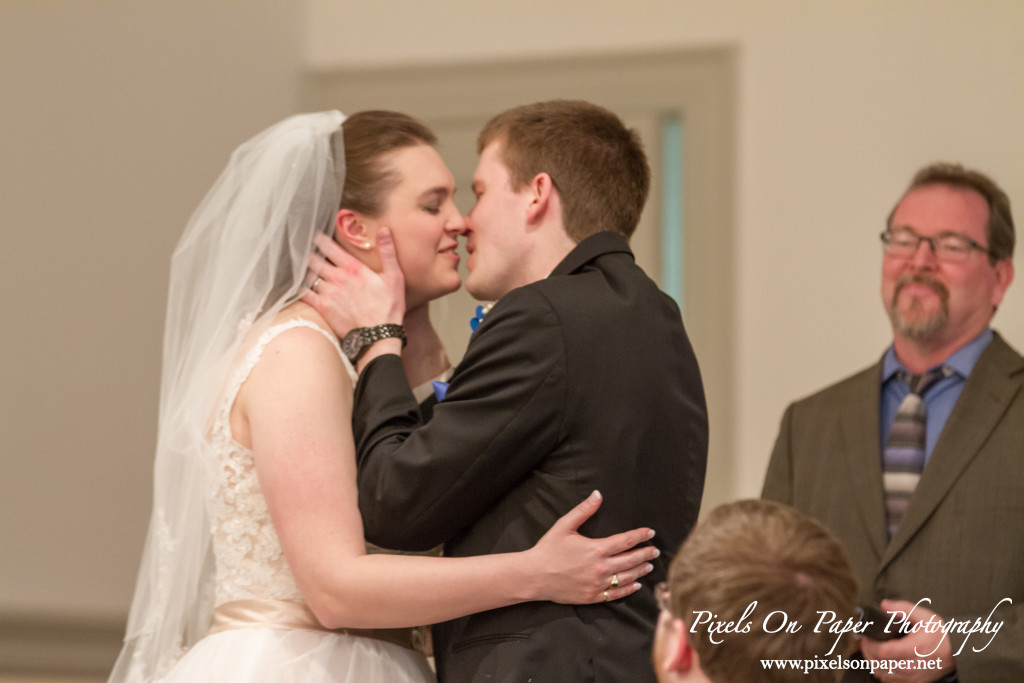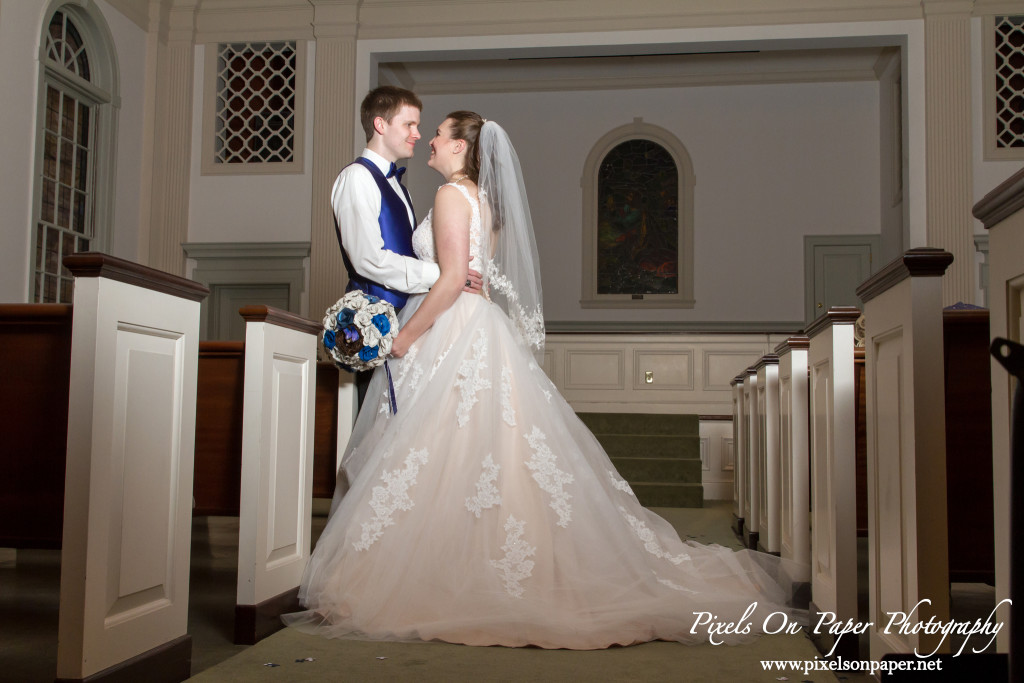 Like the wedding, with tears and laughter – the pastor kept things light in all the right places – the reception was filled with levity, tears, toasts, passion, family, crazy friends and DANCING. The speeches in particular were heart-felt, fun and meant so much to the bride and groom. Elizabeth told us that she snagged one given to save in their memory book.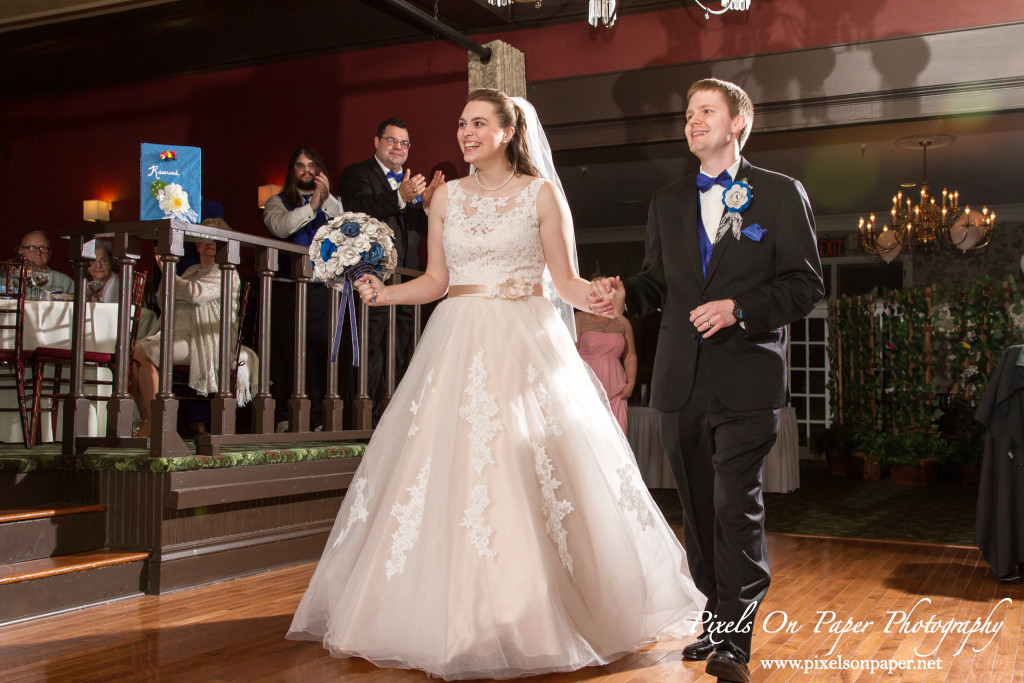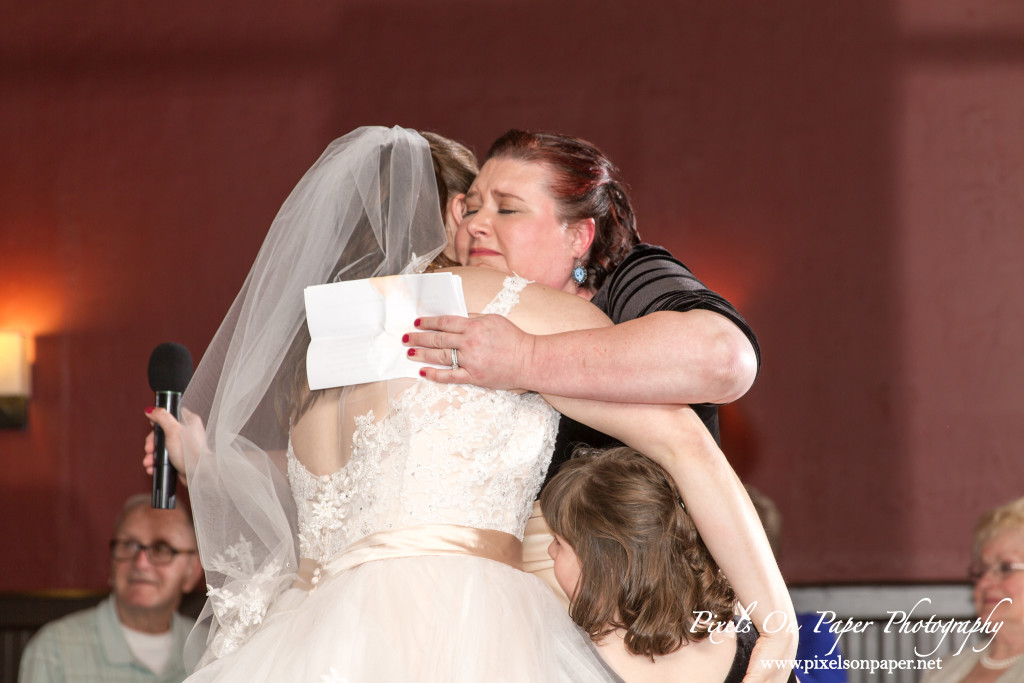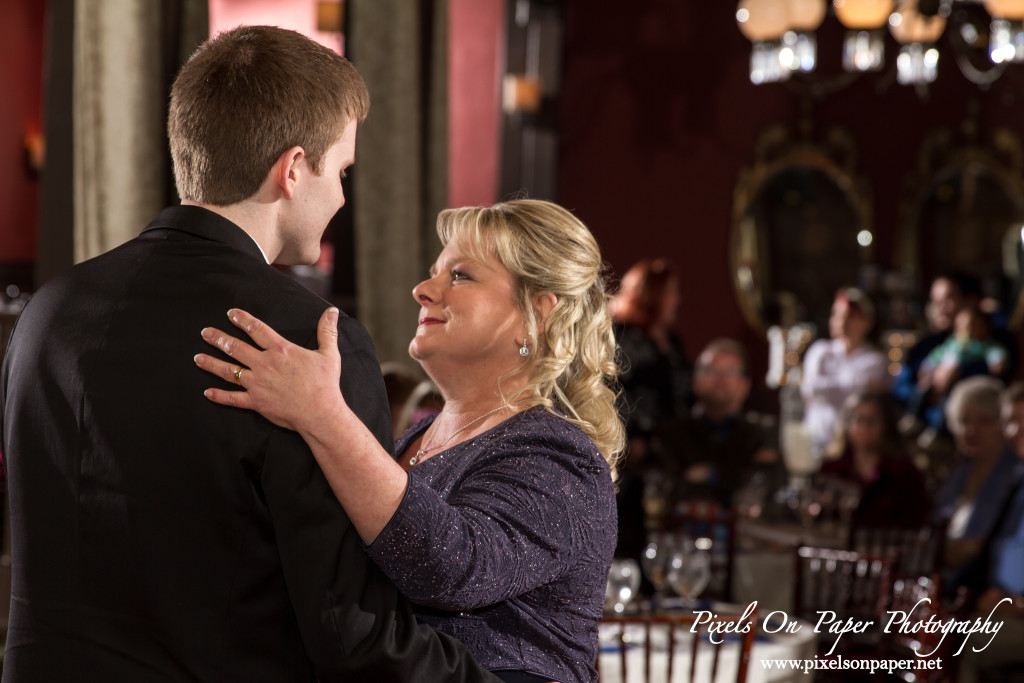 Kyle: "The cherry on top was having over forty people form a circle during the last song and all sing Bohemian Rhapsody by Queen. It summed up the immense energy that surrounded the entirety of the event. I'm still trying to track down a video of everyone singing at the top of their lungs."
Elizabeth: "I think my favorite moment of the reception was our first dance.  We were in front of everyone, but we were really only there for each other in those few minutes. I also really enjoyed our last dance. Out of nowhere, everyone still there got in a huge circle with arms all around each other and we sang Bohemian Rhapsody together while people danced in the middle, laughed, and cried a little!!"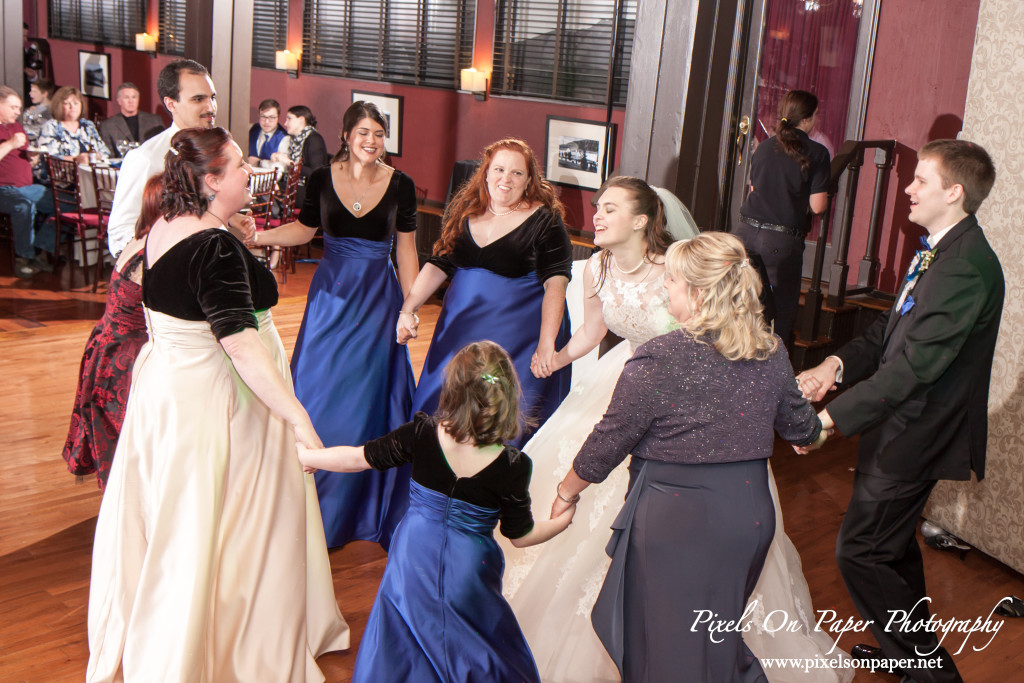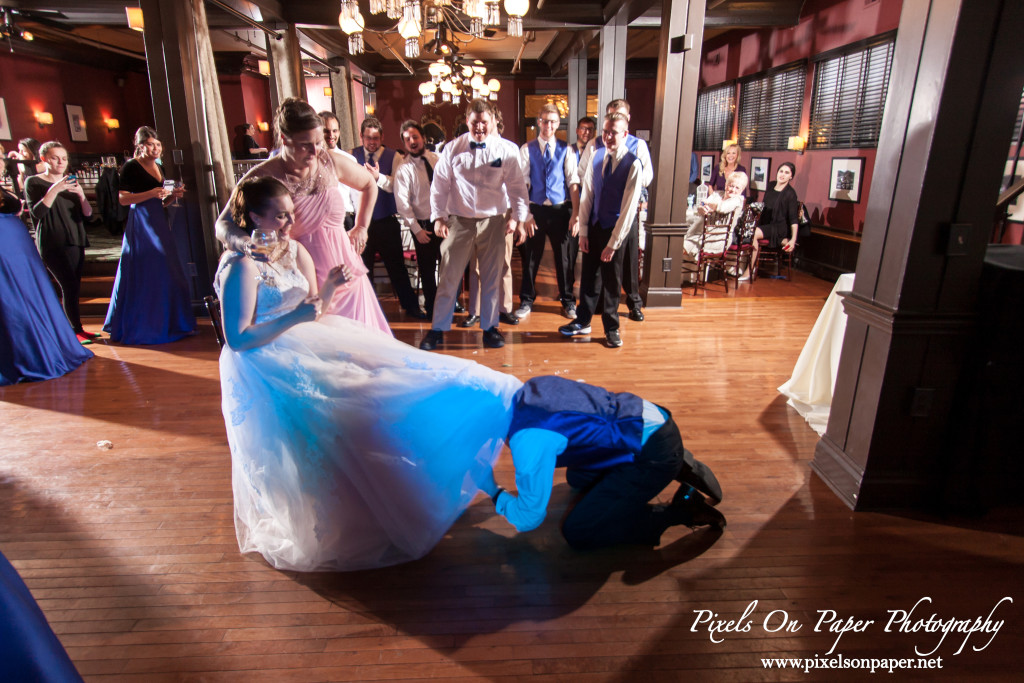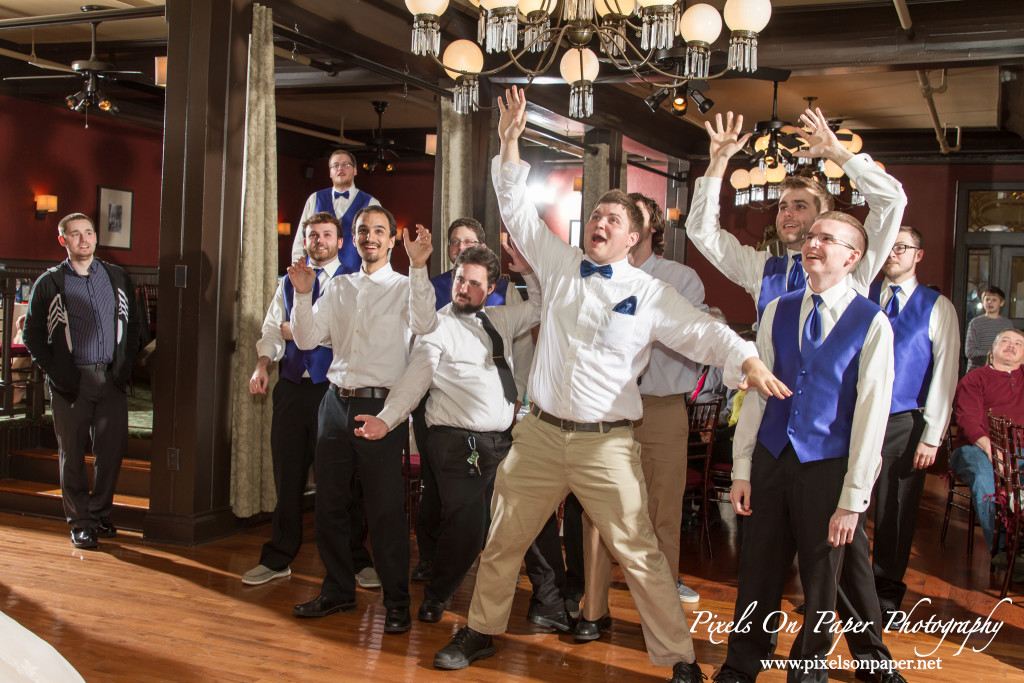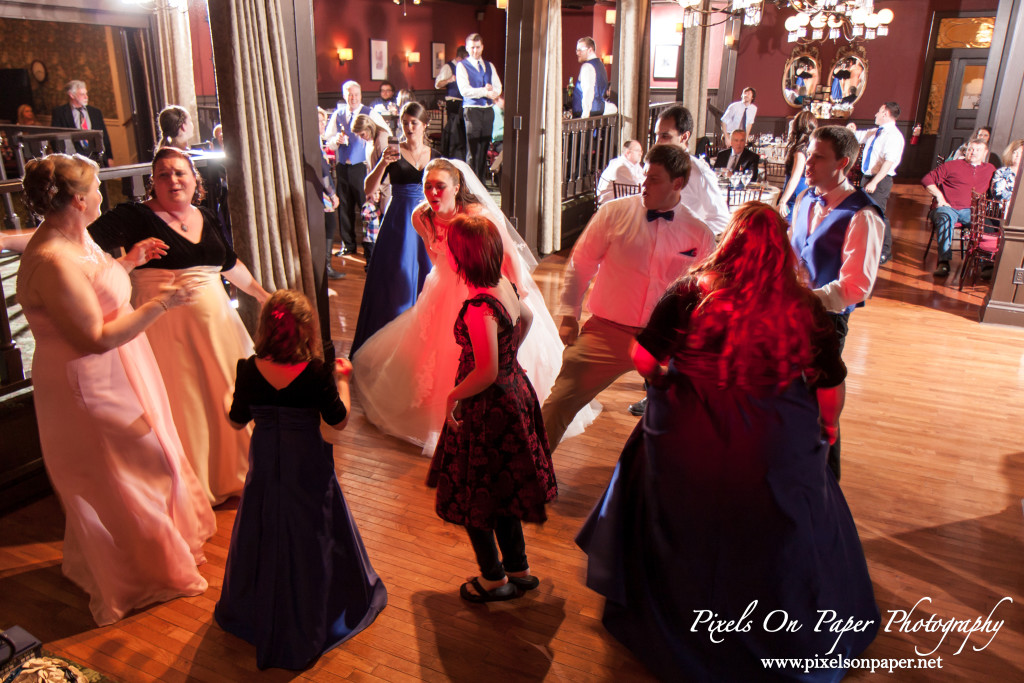 Elizabeth: "SNOW! Kyle had been telling everyone that he wanted it to snow, but I was keeping pretty quiet about that. I wanted it, but I was afraid to say it out loud and then be disappointed. God decided to give us our wish and I was so happy to see it in our home-away-from-home in those gorgeous mountains. So many people traveled so far to be with us! We had family that has known us all our lives, friends we just made in the past year, former teachers, friends of our parents … so many people celebrating with us … and our friend, Oscar, made it back from his year in China less than a week before. It was a wonderful surprise."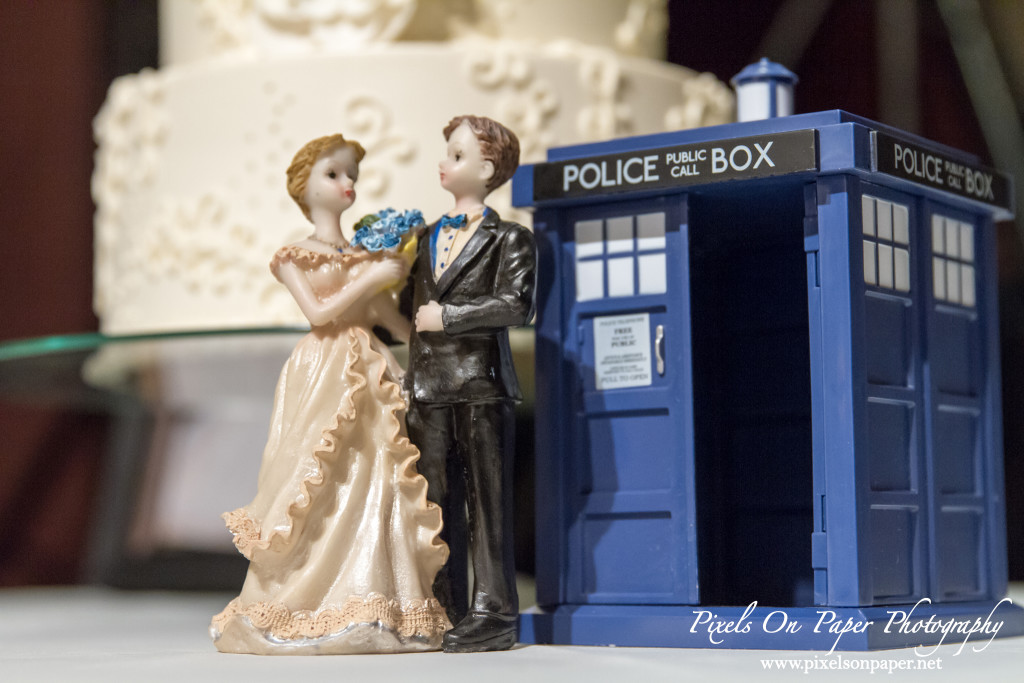 Dr. Who used a tardis (time machine) to get where he needed to go. Elizabeth and Kyle are well on their way, with or without one. Best wishes! We love you guys!
Kyle: "I can't believe that we actually pulled off what we consider to be our dream wedding."
We love family portraits whether they are set in the studio, the great outdoors, a specific location like the mountains or high country, or on our property in our outdoor portrait garden.Pixels on Paper photographs babies and kids, engagements and weddings, brides and special events and portraits of all kinds in our Wilkesboro, NC studio. We would be honored to meet with you, learn about you and your family and be a part of taking special portraits that will become, we hope, family heirlooms.