Meghann and Josh know how to do it up right. Their August 2015 wedding goes down in our book of faves. Meghann told us several times that she didn't realize everything that was going on at once or recall all of the details until she saw all of the photos we shot. That, to us, says mission accomplished. Brides and grooms plan for everything, but can't be a part of Every Single Thing.
That's why they hire photographers.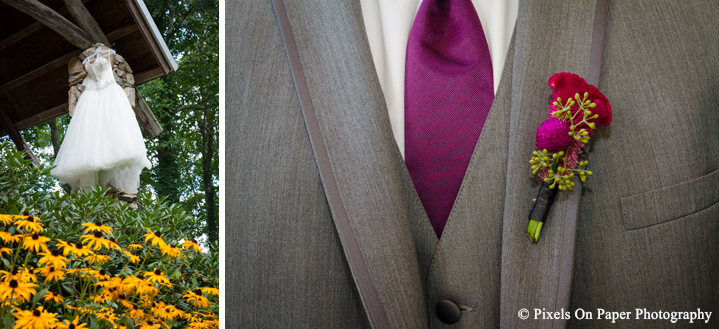 We loved the color palette of this wedding, we loved their families and friends and we loved the property – On The Windfall in Lansing, NC. This wedding, sports fans, was literally at the top of a mountain and guests were delivered to the site via designated 4 wheel drive vehicles. There were no other buildings around. The views in every direction were spectacular.
And we loved the million little thoughtful details. (Their wedding coordinator was Sammie Roberts of Something Perfect Wedding & Events and the attention to detail was unerring. Nice job!) When we meet with engaged couples, we advise them to put as many personal and significant details in their wedding ceremony as they can and these two went above and beyond. One example…. Meghann had small portraits of her late grandparents sewn into her bouquet.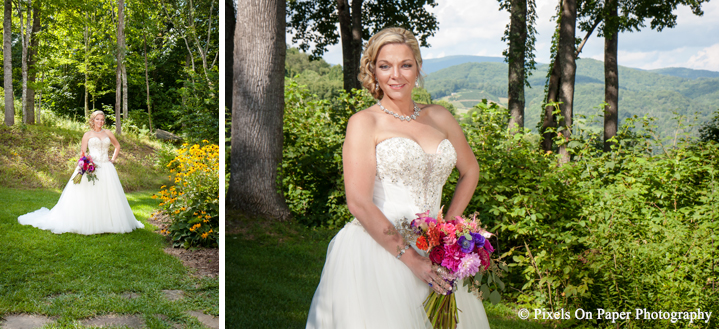 Josh's job centers around being outdoors and he and Meghann spend their free time outside and in the woods as much as possible. So, one of Josh's personal touches/contributions was that he built the arbor/altar where they said their vows. The mountain-top setting took everyone's breath away and then, topping it off, was this hand-made gift Josh made for his bride. I mean, C'MON!!!
Meghann countered his personal touch by choosing to walk/dance/strut down the aisle to Bruno Mars' "Marry You." Josh LOVED it, and so did everyone else. The mood was already electric and this just goosed it that much more.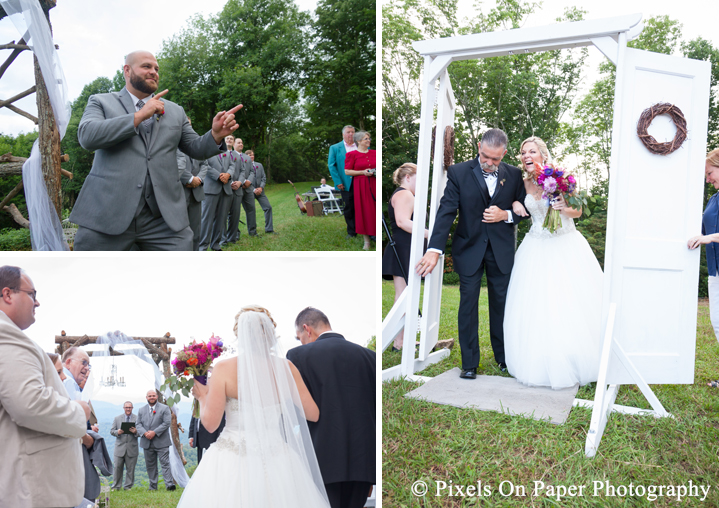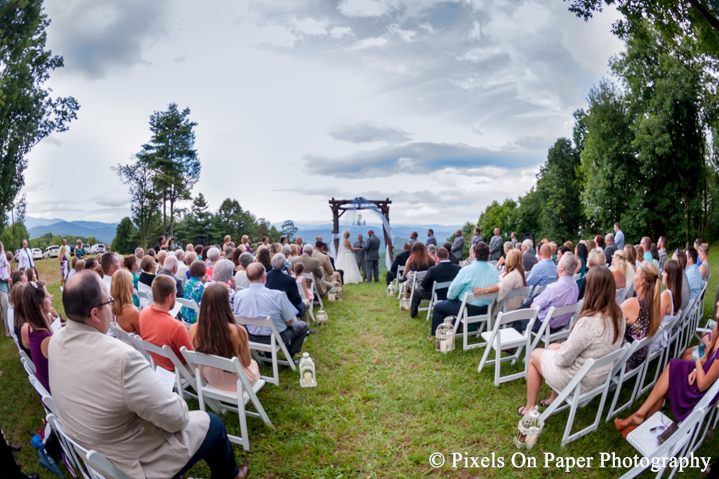 Part of their ceremony included a beautiful representation of them joining their lives and they did it in form of something that will live on and grow. The couple planted a tree together using soil that they brought from each family homestead. Like the Unity Candle or the Sand Ceremony, the blending of families in this way was beautiful and touching and incredibly apt in that setting. These two are just so cool!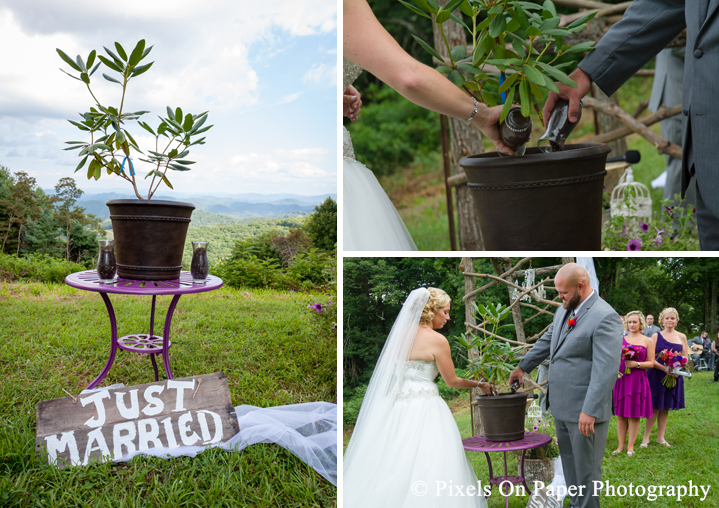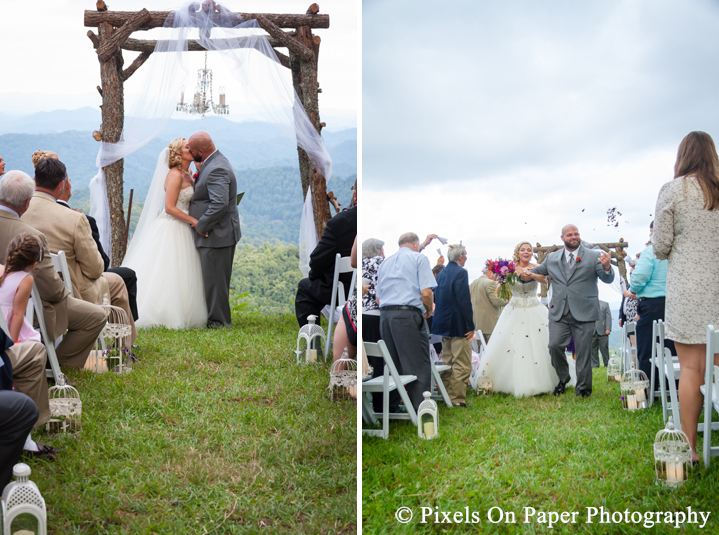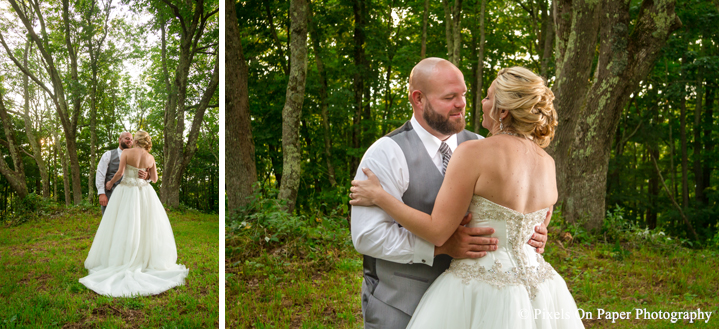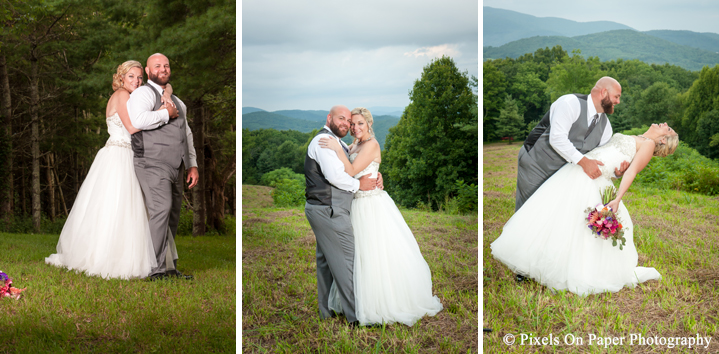 The reception……. oooooooooh my. The sun started to fade as the toasts were made and food was served and then the karaoke got started. It was a PAR-TAY!! So much joy, so much dancing and storytelling and singing and silliness. Meghann told us that she'd cried several times while planning the ceremony and reception (the Good Cry; the "I love him and can't wait to be his wife" cry) and was certain she would "be a mess." But she said afterwards, "I can honestly say that no tears were shed that day…which is surprising. When we look at our pictures, we are laughing in so many of them – and not just with each other – it's during every phase of the day. Mostly, I remember laughing when we read our vows. Some of it could have been nerves, but for the most part, it was hearing that we had chosen some of the very same things to say to each other without even knowing."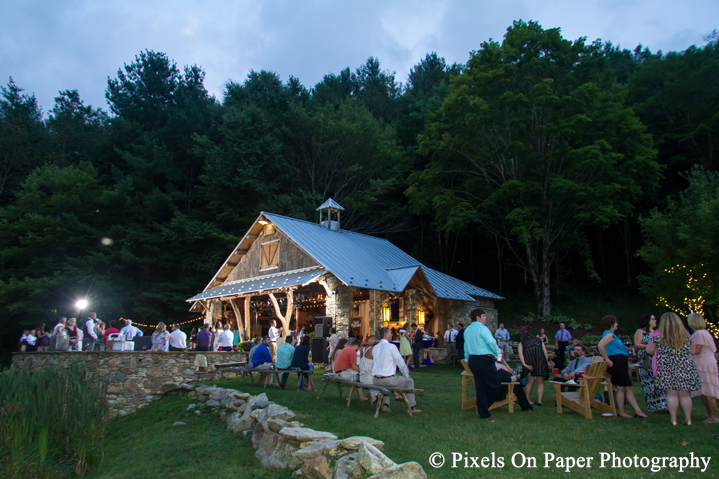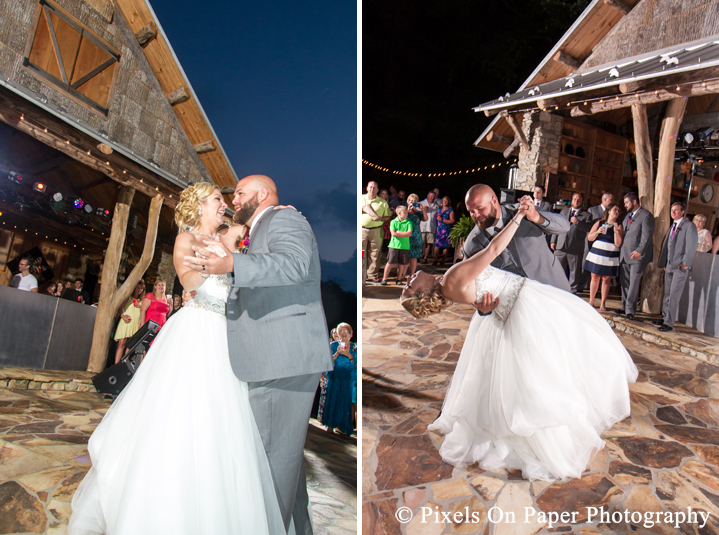 We want to end this blog with quotes directly from the bride and groom about their day and their feelings about life ahead. We asked them the 3 things they want to remember about their wedding day and here's what they said:
1 – The biggest thing I want to remember is a lesson:  Above all else, we have each other and everything is okay.
2 – Life is easier and you can relax when you put things "in your garden".  Minor details never matter!  Smile, breathe, and LAUGH!
3 – Everybody around us worked SO hard to pull this off … doing things behind the scenes that I didn't even know about.  Always remember to love and appreciate everything that everyone has done for you.  It may not look like a lot, but for every little bit you see, there is a lot of deep rooted effort.