The only minor thing about Katie and Josh's October wedding was their now-shared surname. Katie Muskal wore her mother's wedding gown when she walked down the aisle to marry her groom, Josh Minor. The gown was reworked and tailored to suit her style, but kept the elements that reminded her of her mom and bonded them that day. And that's only the beginning….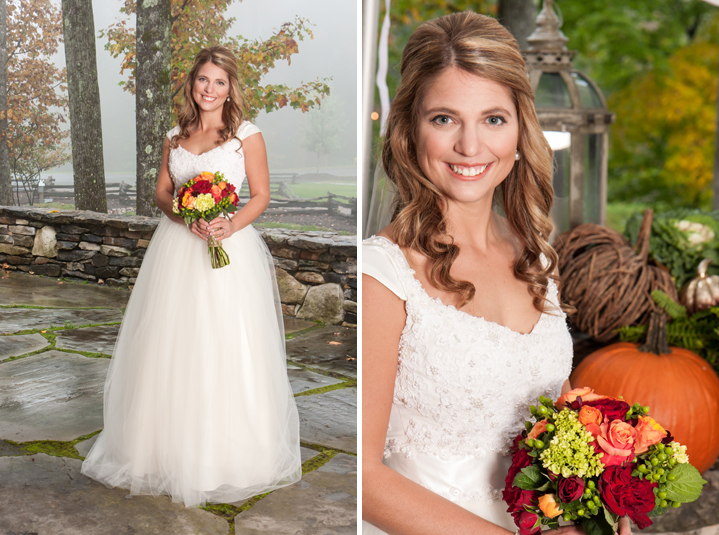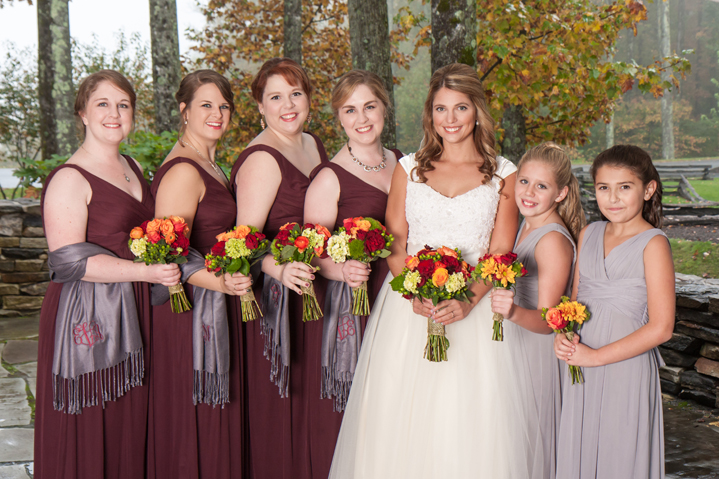 The bride told us that she, "wanted to create a casual, rustic but chic, festive atmosphere where everyone could be comfortable and have a good time. And of course, we wanted it to be in the beautiful Blue Ridge Mountains!"
Katie is a native of Pennsylvania, but as an Appalachian State alum, she got the mountain bug and fell in love with our Blue Ridge  …… and fell even further for a NC boy – Josh. "After dating a few months, we spent an amazing weekend deep in the mountains while attending a football game. I can honestly say that the beautiful scenery helped us fall in love more and more each day. For our wedding, I wanted to recreate that feeling of love we experienced on that trip."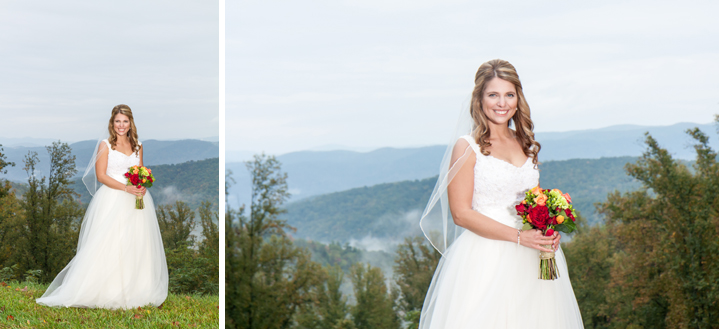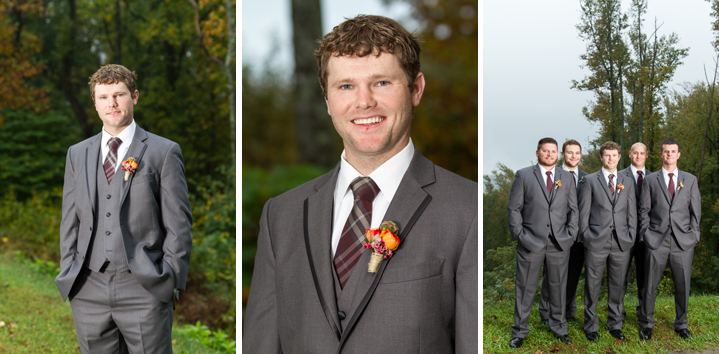 There is something about an outdoor wedding that is both challenging and adventurous and so deeply cool. Everyone is surrounded by mother nature, we're all under the sky, there is tender ambient noise, and the trees and flowers and the rest of nature become attendees.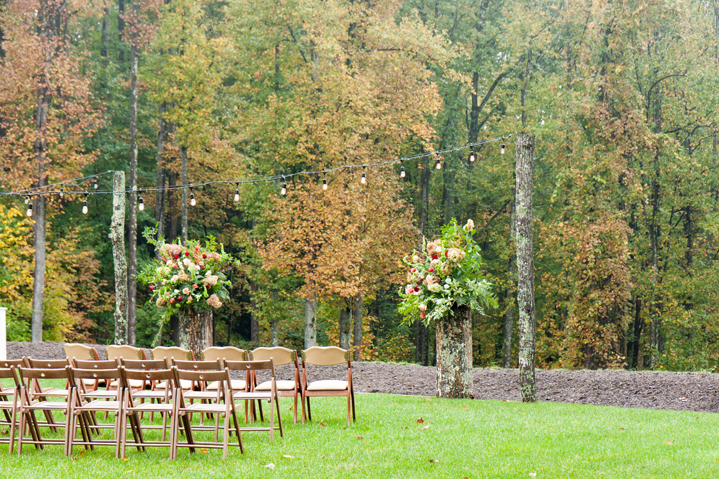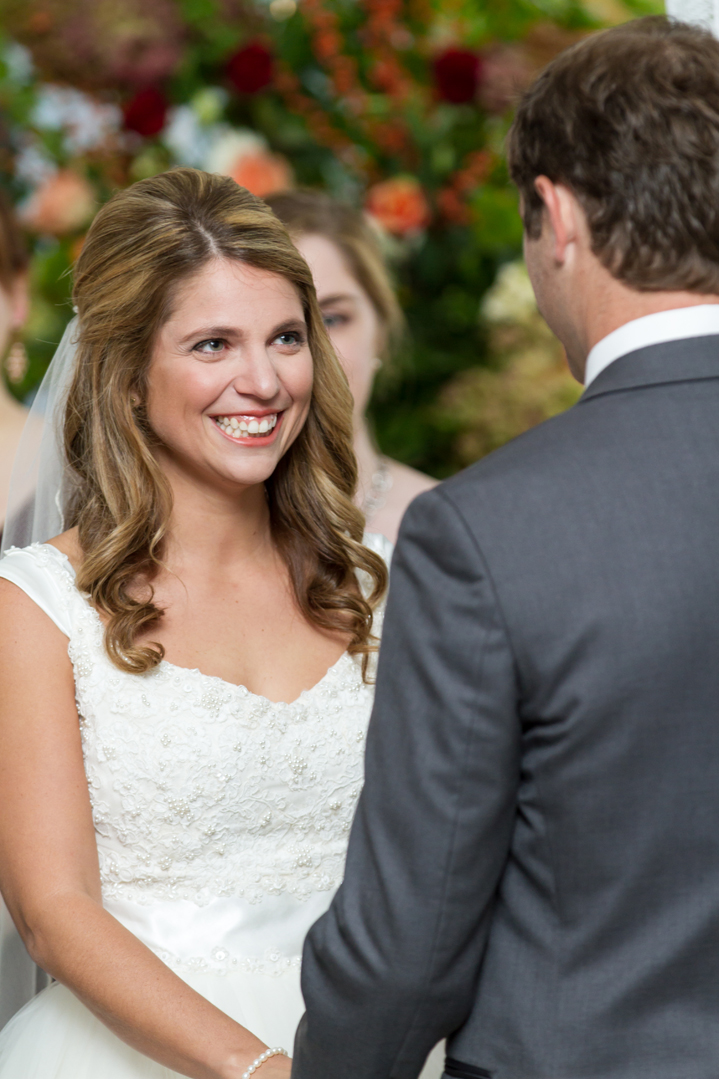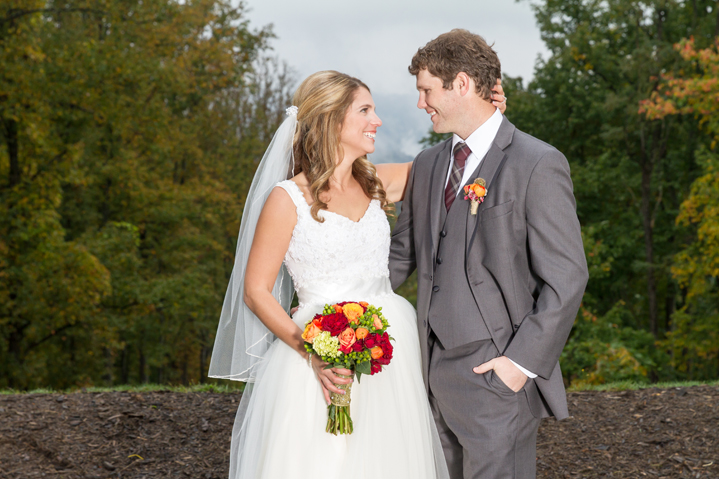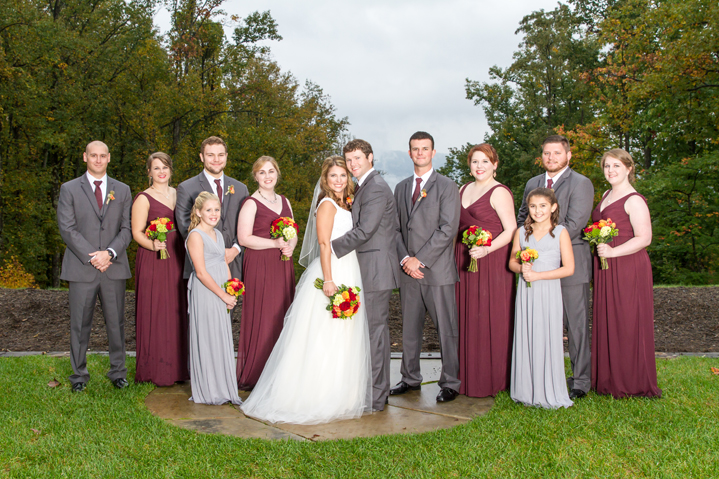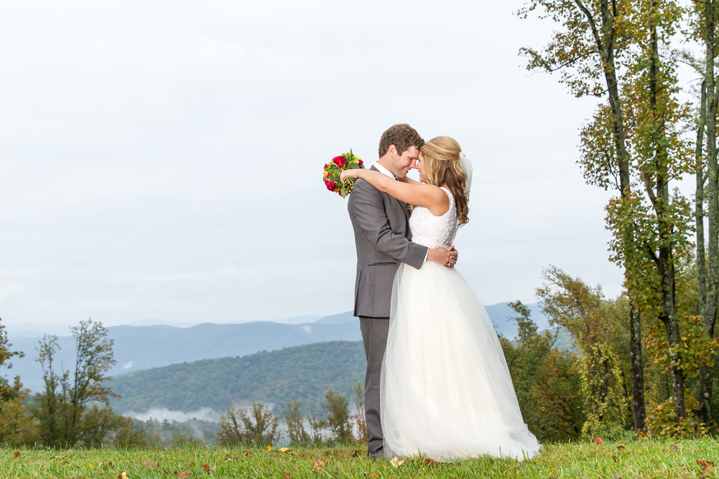 A little shout out: this couple worked with the amazing talent of Buddy Fore and his efforts tend to result in the most beautiful and well-organized weddings.  Just look at his table arrangements!! Also, look for him in the 2016 issue of High Country Wedding Guide.
There was no shortage of details that spoke to autumn and tradition. The bride's Jewish upbringing was celebrated with a "chuppah" made of antique cloth from both the bride's and groom's grandmothers. They celebrated with a "breaking of the glass" ceremony, and later the "hora" chair dance at the reception. Finally, the centerpieces and decorations on the head table were from the bride's grandmother, who passed away last year.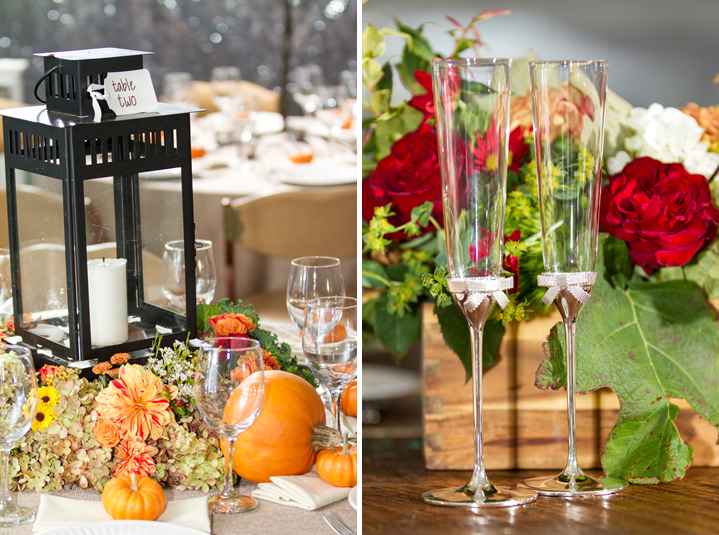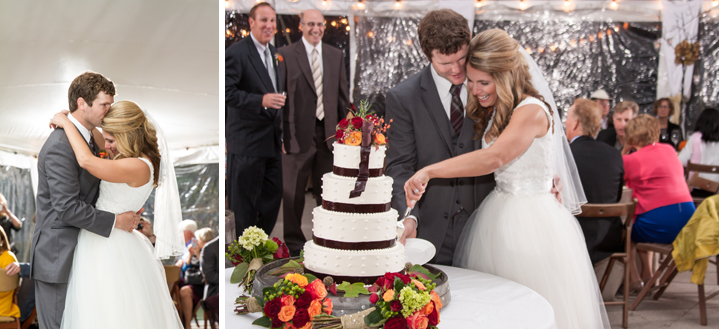 We love the Blue Ridge Mountain Club! It couldn't be more picturesque and it, along with the fog and rain in the morning followed by a starry night, allowed us to get gorgeous photos of this glorious couple and the many people people who came from hither and yon to be there to celebrate with them.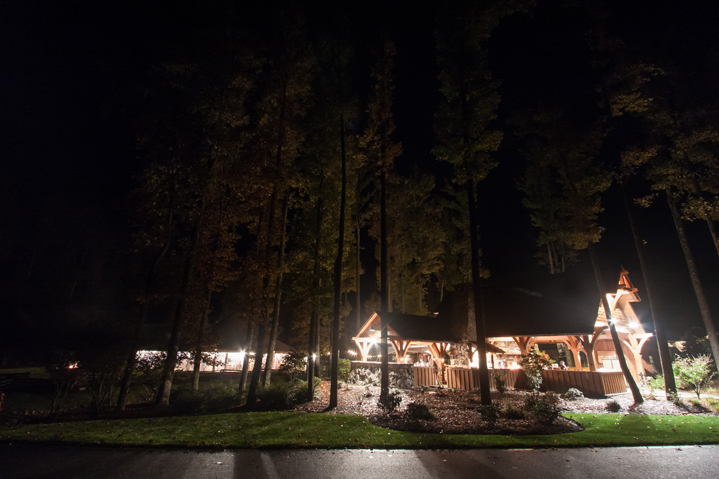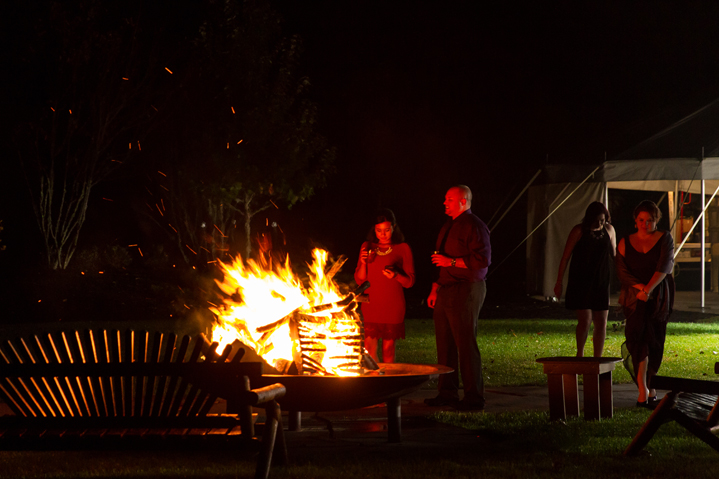 This reception had the highest energy we've seen and photographed all year. The dance floor never cleared thanks to DJ Erok, whom we would highly recommend. Ages young and old partied well into the night. We loved that when they did need a break, the outdoor fire-pit was close by and the stars were out.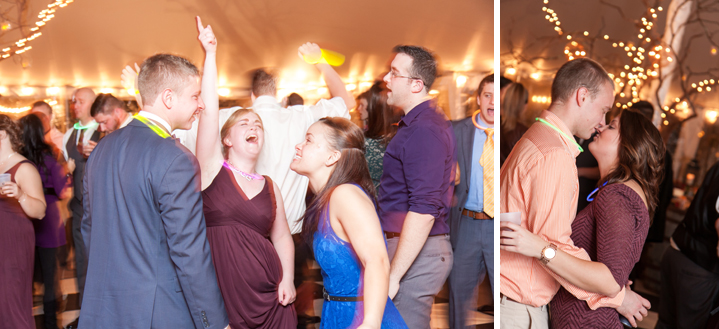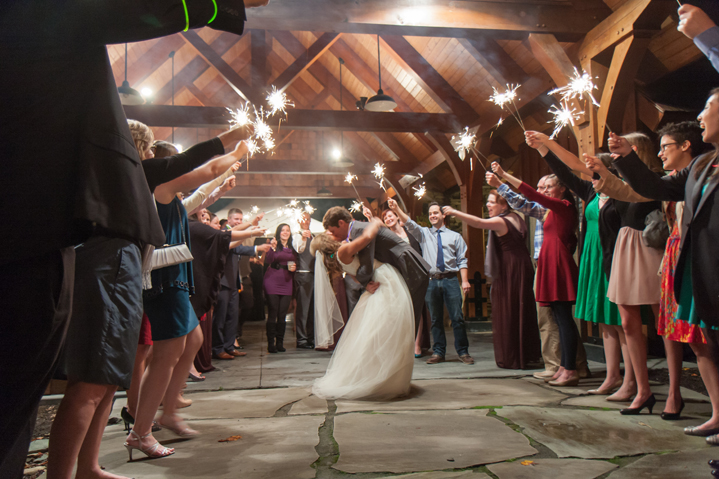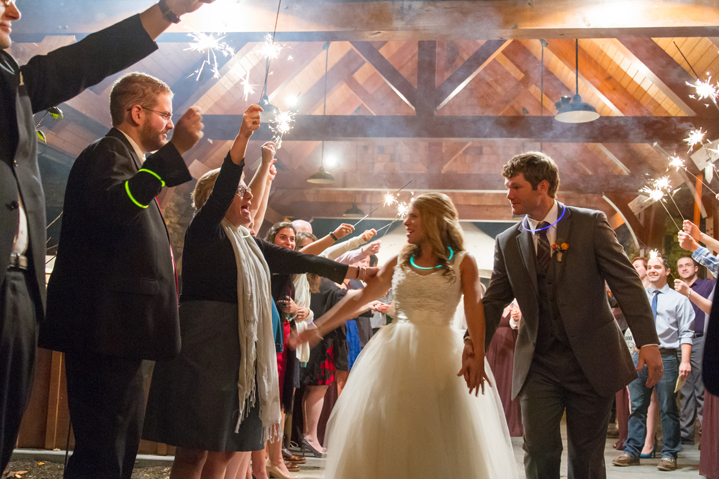 Katie asked if it might be possible for us to thank her parents – David and Tracy Muskal, for giving them an amazing wedding and to thank everyone else who came to celebrate with them. Of course we can: THANK YOU SO MUCH!
From Ryan and myself, we'd like to thank Katie & Josh for allowing us to be a witness to their special day. Good Luck, you two! We love you!