Sherae Jones married David Johnson under a glassed-in rooftop in Charlotte in 2014. It was glorious. We got to know this couple when we photographed their engagement session and that's when we discovered how cool and real they are. So, when we asked Sherae to look back to provide some perspective – this is what she told us …. no holds barred!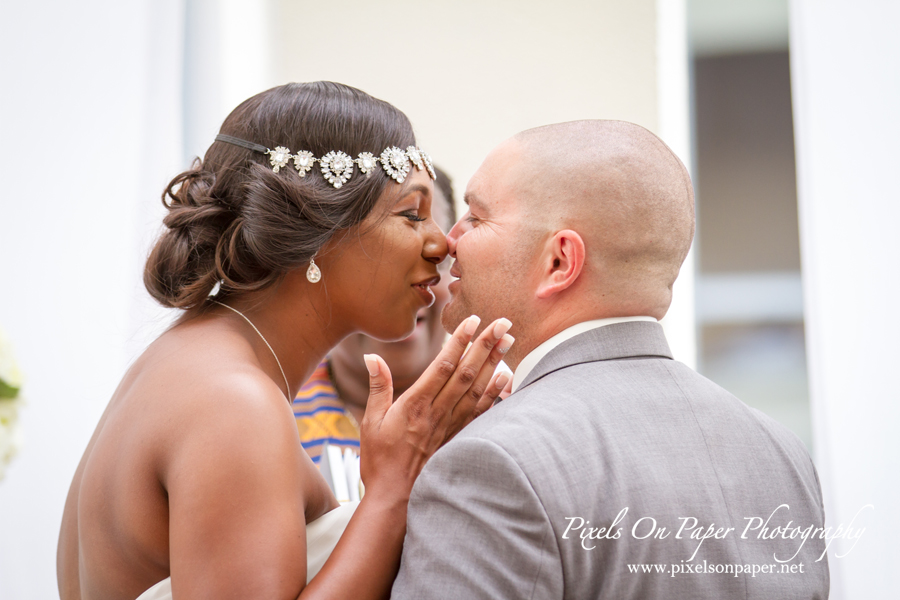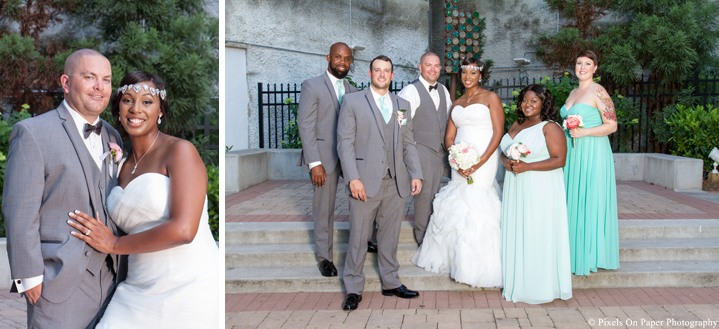 Name some things you would do differently, if, by some strange wrinkle in the universe, you could do it all again (with the same person of course).
I would have had a few more important pictures taken and by important I mean family, and a couple more with us and our Officiant.
The arrangements for my hair. I trusted a friend to do my hair and she didn't even do a trial for me. She also ended up bailing on me two days before. Luckily someone else stepped in, but it was something I should have hired a professional to do.
Name things you would NOT change.
My decorations… I had two pillars with flowers at the altar. I also had rose petals down the aisle. For the tables I had glass vases with floating candles and marbles. Given the venue, I didn't need a whole lot. What I had was just enough. I probably would have had more artificial flowers. Looking back it wasn't important to have real flowers. 
The Cake & Candy Bar – for my cake I had two tiers and then a cupcake tower. I also had a few cake pops- which were a big hit! For favors, we did a candy bar. That was also a big hit and very popular for the adults. LOL!

Food– Instead of doing a buffet or traditional sit-down dinner, I did heavy hors d'oeuvres. That was something that the venue coordinator suggested. I got a lot of backlash about that from family, leading up to the wedding. However, on the actual day they loved it! It doesn't seem like a lot, but having a good variety of food to choose from works and guests had the chance to get SECONDS!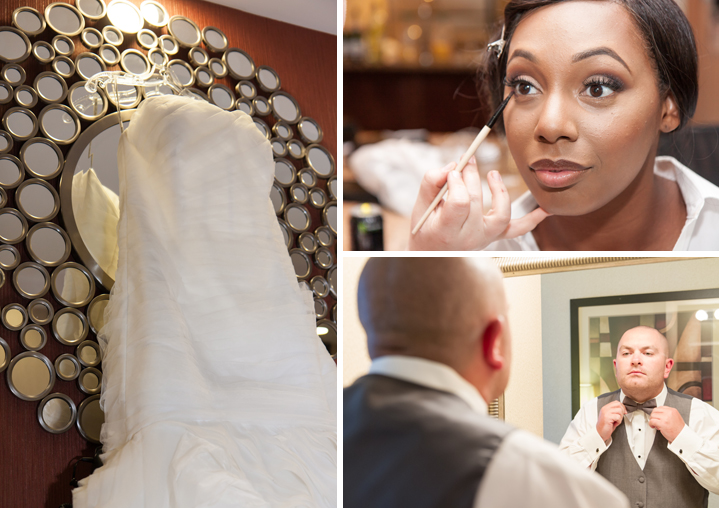 What if anything do you regret?
I regret that Dave and I didn't get around to each table to say thanks TOGETHER. I have gotten some negative feedback from guests about that. However, there was a lot going on, I was busy dancing, it rained and everything was moved inside.
I also regret that I cut the top tier of my cake. I had two tiers and a cupcake tower. Because I cut the very top tier and not the bottom, the venue assumed it was ok to cut all the cake. As a result, all of it was eaten and we do not have any for our first anniversary.
Positive and negative advice on any or all of the following:
Attire. Who cares what anyone thinks. It is YOUR day. A lot of people will give advice, but you do not have to take it. Wear whatever you and your spouse-to-be are comfortable with. I wore Chuck Taylor's under my dress… probably one of my favorite parts. I also did not wear a veil and I was fine with that. Instead, a good friend of mine made a head piece for me that was truly one of a kind.
Food. Make sure it is good. Most people remember the food, the bride's dress, and the music.

Gifts. Always appreciative of gifts. If you do a registry, pick things you want.

Location. If you are worried about the weather, pick a venue where you can have a backup space if weather gets bad. Also, another suggestion is to have everything in one place. So much easier for guests and vendors.
Decorations & decor. Budget for linens, as they tend to be a little expensive. Some chairs are beautiful, but are not comfortable. And decorations can be subtle; they don't have to be extravagant. Small vases and floating candles are very affordable and the vases can be bought at the dollar store if you want to save money for other items on your list.
Number in the wedding party. I suggest no more than 5. Five is the perfect number to keep up with. If you have a bridal party that is larger than 5, not only is it more expensive for bridal party gifts and for those standing up for you, but also the procession of the bridal party takes some time and makes your ceremony longer.

Number of guests. Whatever you can afford. A good average number is about 150. Some will decline and you may get some no-shows on the actual day. I suggest keeping the number reasonable for your pockets because food is very expensive and so is alcohol if you plan to serve it.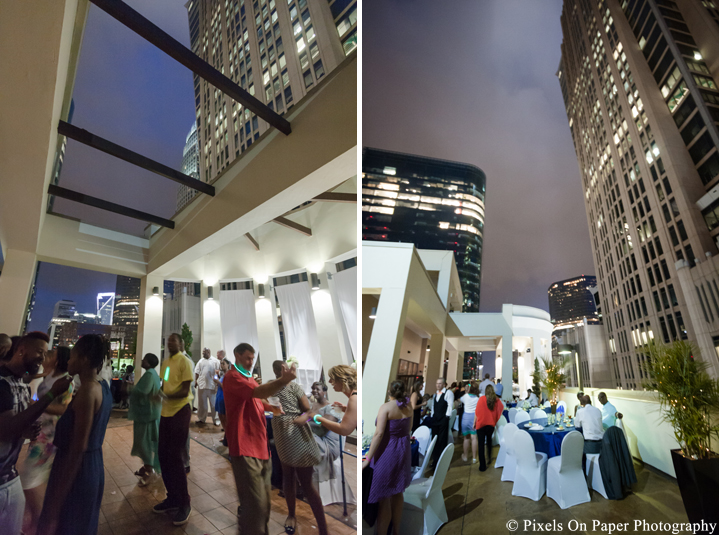 Time of year. Time of day.
Everyone loves summer/early fall weddings, but those tend to be the most popular times to get married. Try a winter wedding. Those are just as beautiful and rain will not be an issue since everything is indoors. Spring weddings are not bad, but everyone knows it rains a lot and that could be an issue if your wedding is outdoors. I suggest early afternoon (2 p.m.) and evening weddings. 
DJ vs. a band.
I like both. DJ's are probably more pocket friendly, but bands bring a classier vibe to the whole shebang.
Wedding planner or friends and family approach.
I would say definitely go with a wedding planner. They are professional, organized and will help your day run smoothly. They can be expensive, but if you go with a venue where the fee is included, go for it. If your venue does not include the coordinating, and you have to hire outside, hire someone of quality. Someone who has great reviews. Remember you get what you pay for. I had 4 wedding planners working the day of my wedding, and I had no worries. They took care of everything!  The family and friends approach is not bad, but you have to know who you are dealing with. I've personally been to weddings where there were family and friends in those roles or no coordinators at all. Honestly, those weddings were not organized at all.
Vows. Writing your own is obviously more special and intimate. However, there is nothing wrong with the traditional ones. I mean, after all, traditional vows sum up everything so perfectly.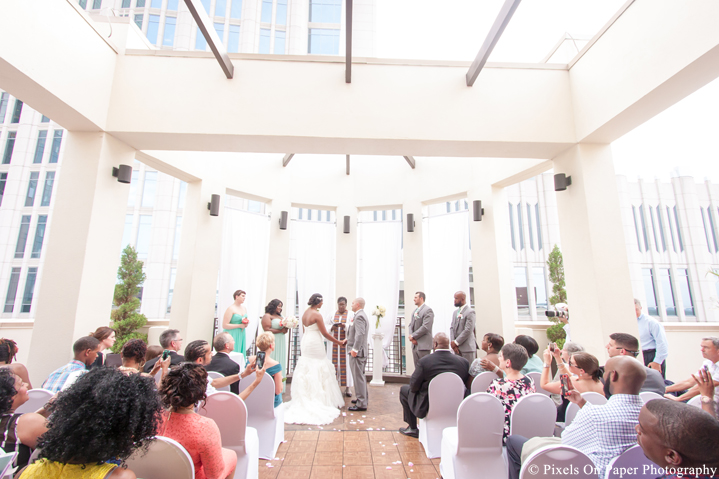 Pixels will continue to share feedback from our brides and grooms in the hope that you'll be able to balance both the stuff you dream about with the practicalities of planning and the day!
In case you missed them, click here to read Redux part 1 and Redux part 2.
We love family portraits whether they are set in the studio, the great outdoors, a specific location like the mountains or high country, or on our property in our outdoor portrait garden.Pixels on Paper photographs babies and kids, engagements and weddings, brides and special events and portraits of all kinds in our Wilkesboro, NC studio. We would be honored to meet with you, learn about you and your family and be a part of taking special portraits that will become, we hope, family heirlooms.