We are ready to offer unique and creative portrait photography for the 2012 Prom season. Forget about those horribly traditional photos made at your prom where they might actually make you say cheese and place you in a pose that is in no way shape or form natural or flattering. Instead reserve you session the day of the Prom with Pixels On Paper and have a blast getting great photos that make you feel and look like a Rock Star or High Fashion Model.
Most of the time you only wear that dress, tux, or creative attire once so why not capture the way you look in it the best way possible. Going to prom with a group? We will photograph everyone in a way that you'll never forget! Watch prom pics slide-show and then give us a call to make sure you don't end up with lame and cheesy prom portraits.
We will also be on hand taking deposits and booking sessions during the upcoming All About Prom Event on March 3rd at Bridal Traditions Wedding & Prom Attire. Don't miss out on your opportunity to save on everything from dresses, accessories, hair, makeup, and nail appointments for the big night out. And witness all the latest trends in a runway fashion show. There will also be a Free Dress Giveaway! Learn more at www.tinyurl.com/AllAboutProm.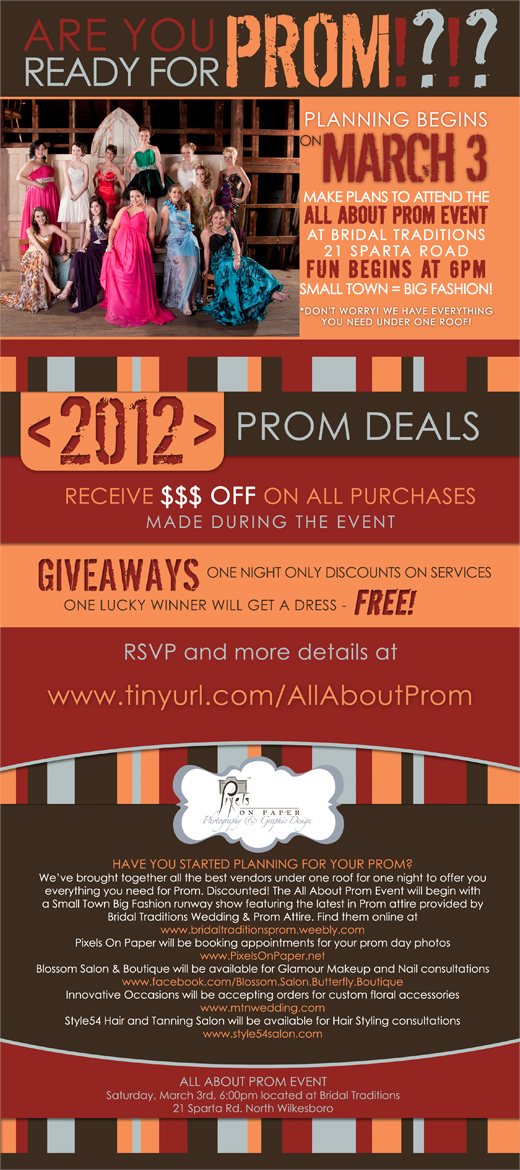 Photos By: Pixels On Paper
Dresses and Accessories Provided By: Bridal Traditions & Prom Attire
Hair By: Style54 Hair & Tanning Salon
Makeup & Nail Design By: Blossom Salon & Butterfly Boutique
Floral Accessories By:  Innovative Occasions
All service providers will be offering their expertise to Prom goers. Book your appointments now!