20 years ago, Kelly and Chris Shumate became a couple. They eventually created a new life as husband and wife: Kelly started a new business – Bridal Traditions – and they lived happily ever after.
And scene.
Actually, there's more. 20 years more and they did live happily, but as their wedding anniversary approached, Kelly decided that she wanted the photos that they never had when they first tied the knot. She contacted us to take them, since she now wanted the more artistic style that wasn't an option on their wedding day. We were happy to help them commemorate and really celebrate. And Kelly – who's in the bridal business – had a very specific vision.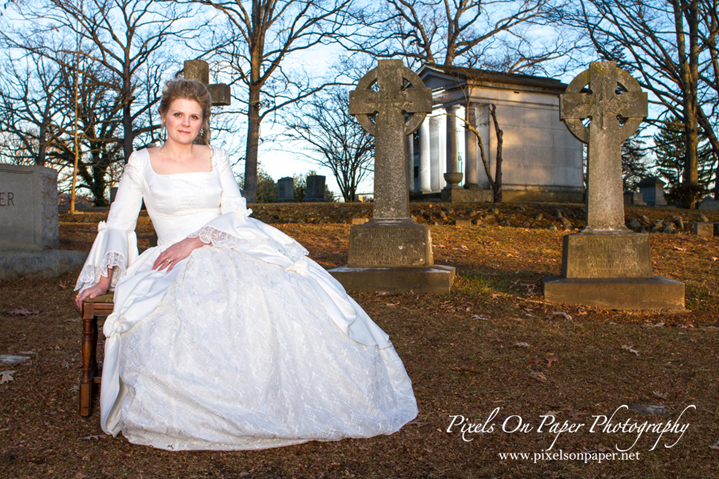 Part of what made this shoot fun for us, other than the fact that they were celebrating a momentous wedding anniversary, was the theme. Kelly loves gothic architecture, the antebellum era (think: Gone With the Wind), bare landscapes and an era gone by. We chose a cemetery near the River Arts District in Asheville, NC, during winter. The results were just what she wanted: sparse, real, gothic and graphic. And we loved the juxtaposition of new and old. A renewal of their marriage and an opportunity to capture them in themed clothes and as a couple who were invested in each other for better, worse and the whole nine yards.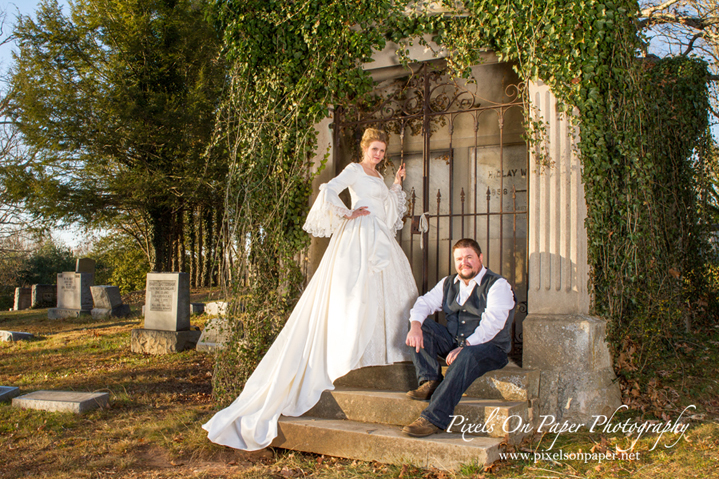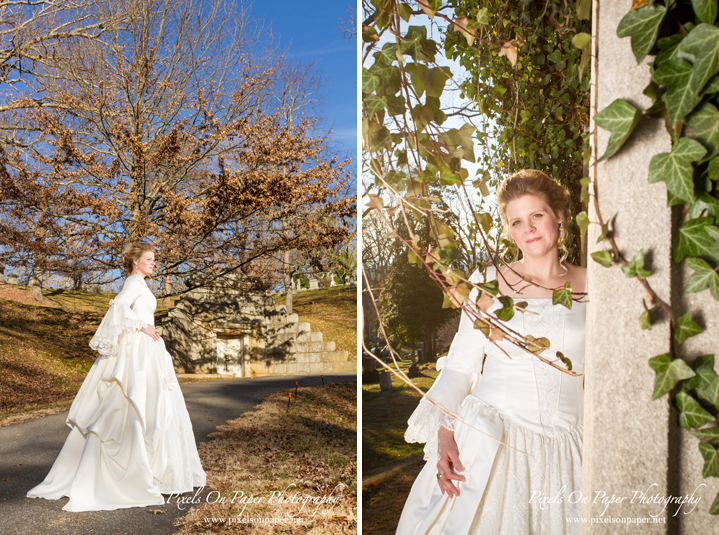 Ok – so some notes. How do you like the dress? This is the gown that Kelly was married in originally. It still fits.
IT. STILL. FITS. In fact it was actually too big and had to be altered smaller. (no jealousy……… well maybe some)
Another fun fact: this gown is the first one she bought for her bridal shop, which is pretty auspicious.
Kelly was also specific about setting, which is why this cemetery worked so well for the shoot. In the bareness of winter in the cemetery, she and Chris stand out like a couple of players from a Civil War play or Ken Burns' mini series. She – Scarlett O'Hara or Melanie Wilkes – and he Captain Rhett Butler or Ashley Wilkes.
They truly look their parts. He comes home from war (brother against brother, people!!! lest we forget) and there she is, after waiting, praying and keeping the farm afloat despite major setbacks. You can almost see the letters from Corinth, MS:
"My dearest Kelly Emeline,
The war does not go well. I can scarcely remember the curves of your lovely visage…."
Pardon the digression, but seriously – look at them and watch this slideshow of their portraits.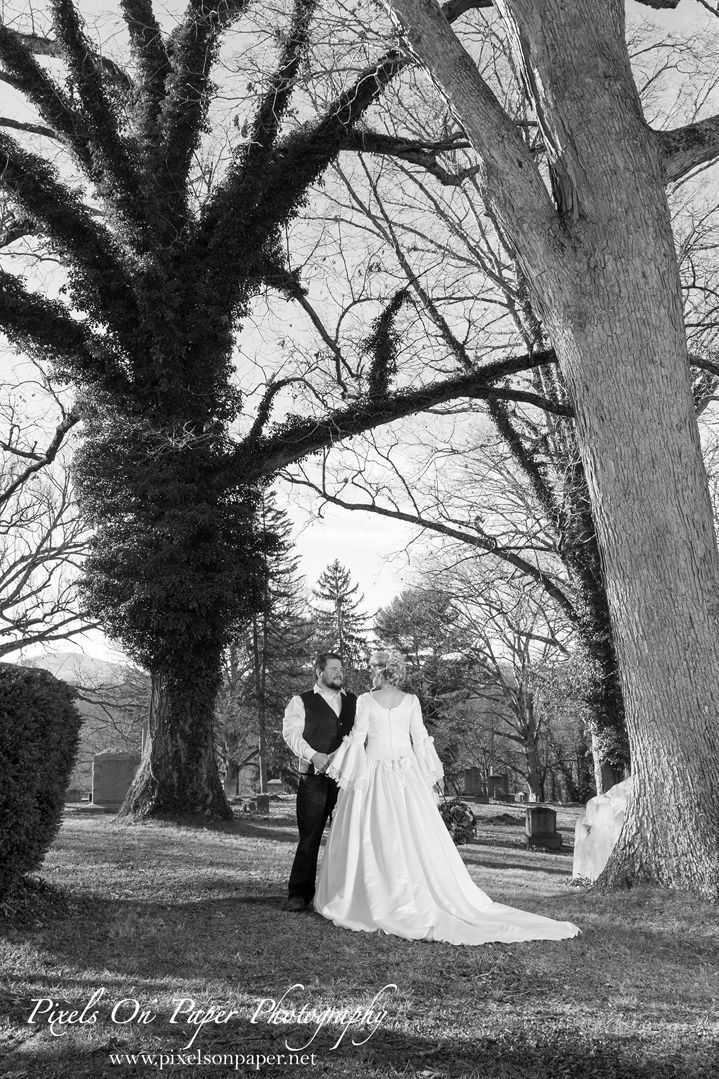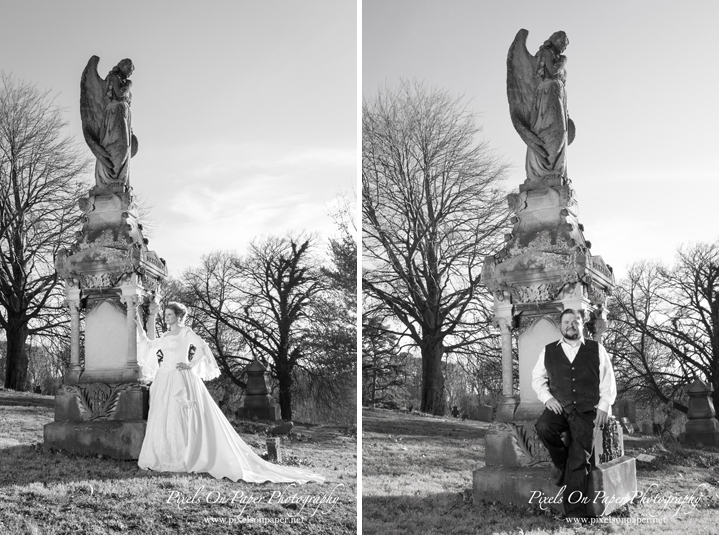 This photo shoot was literally a year in the making. It took a little time to plan, but it mostly took will and faith and perseverance. As all marriages do, the Shumate's union was ebbing when Kelly contacted us. They were struggling as a couple, wondering about the future, trying to understand what to keep in their relationship and what to jettison and whether or not the "us" in them was still alive. Digging deeply, they moved forward, but 99.9% of the success in their marriage was their faith in God. They knew marriage was hard, but giving up was not something either of them was interested in. So this photo shoot was about WAY more than grabbing pictures of great clothes in a cool setting. It was an actual celebration of making it for 20 years and looking forward, with renewed hearts, to the next 20.
And the 20 after that.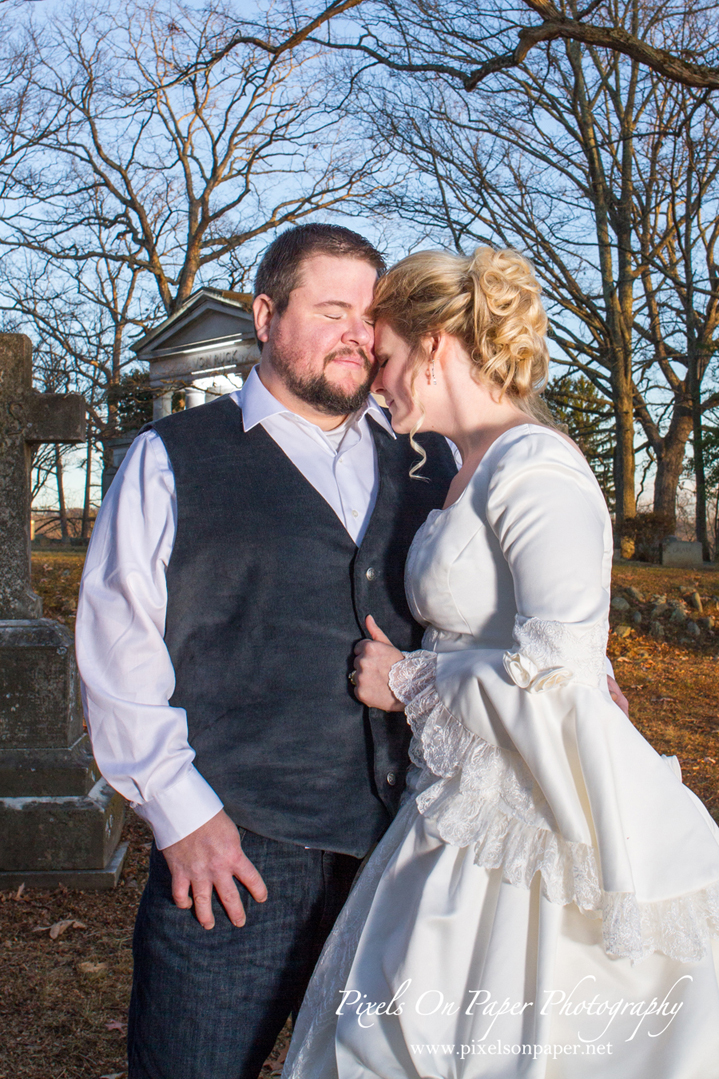 Not only were we thrilled to be a part of capturing this day, Pixels created a wall of photos for Kelly's shop office. Something she could point to that says, "we did it and we're still here."