Weddings in the NC mountains are always a favorite for us, especially when the ceremony is held outdoor at Leatherwood Mountains located in Ferguson NC near Boone in the NC High Country. The backdrops that the mountains offer are second to none with endless possibilities around Leatherwood resort.
Long before Sarah and Jeremy's wedding day, we had the opportunity to photograph Sarah's bridal photography. We have been wanting to do a "peach blossom shoot" for a long time, and when the timing was right, we were lucky enough for great weather. We photographed among the peach and  apple blossoms in orchards in Brushy Mountain, NC. Sarah's dance background allowed us to push her posing a little farther than we normally get to do, and the results were simply stunning! We got creative by incorporating Sarah's life as a dancer and love for horses as you can see in her bride photos shown below.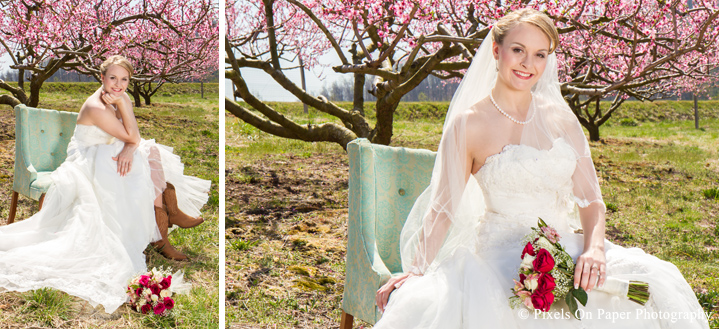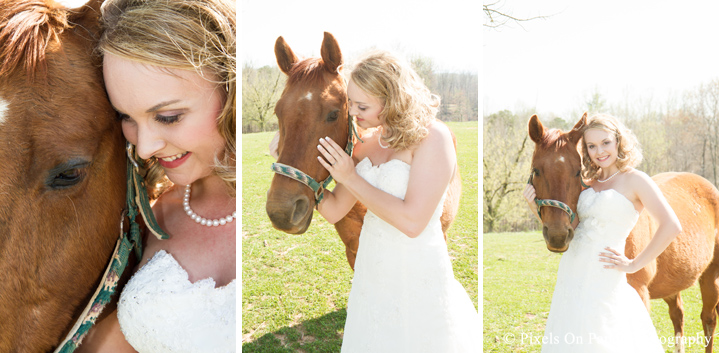 Sarah and Jeremy chose the perfect wedding day. With a nice breeze blowing through the NC Mountains and fair temperatures, they said their "I do's" at the main Leatherwood cabin in front of their families and closest friends. When you are surrounded by horse stables and have a love for horses, what better way to arrive at the ceremony site than in a horse-drawn carriage. Sarah stepped out of the carriage and walked to a waiting Jeremy at the end of the aisle where they exchanged vows that they wrote for each other. After they lit the unity candle and exchanged rings, they were announced as husband and wife and had their first kiss as a married couple.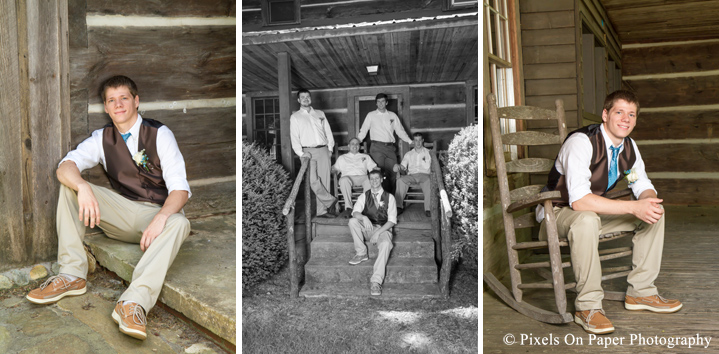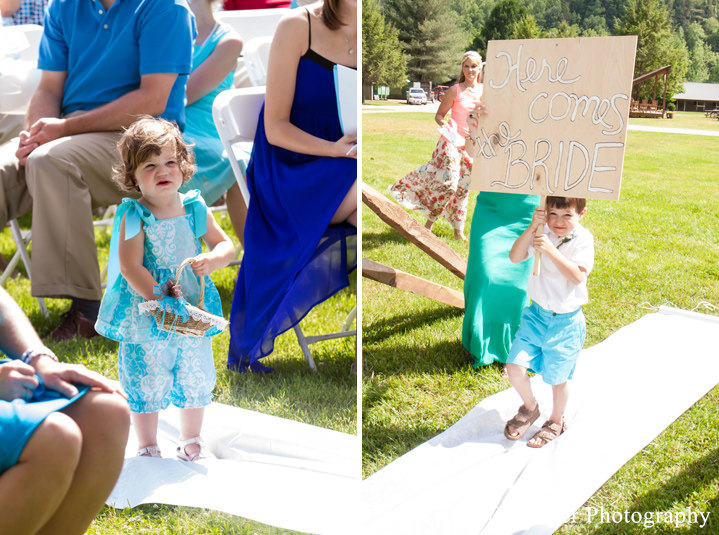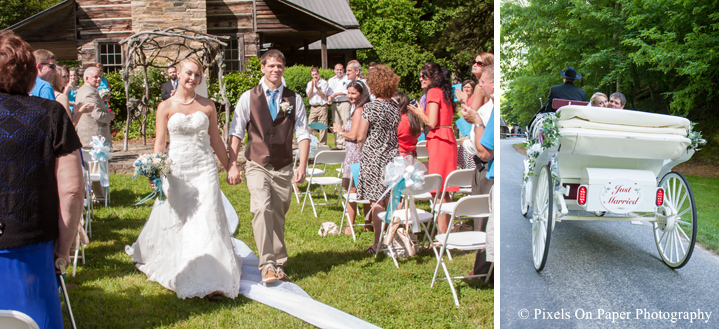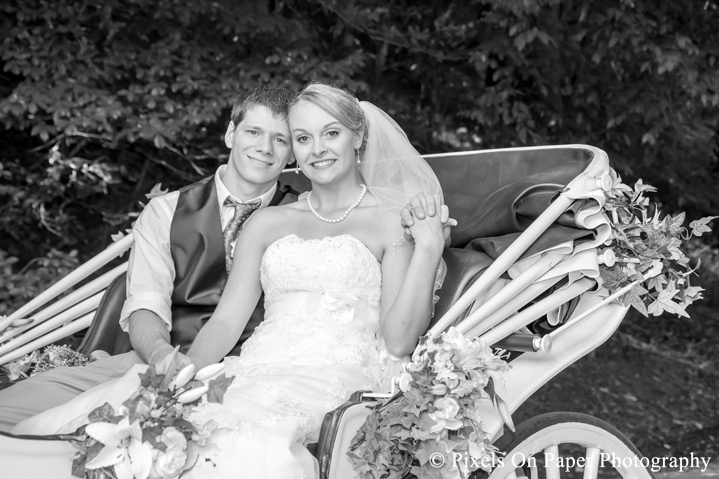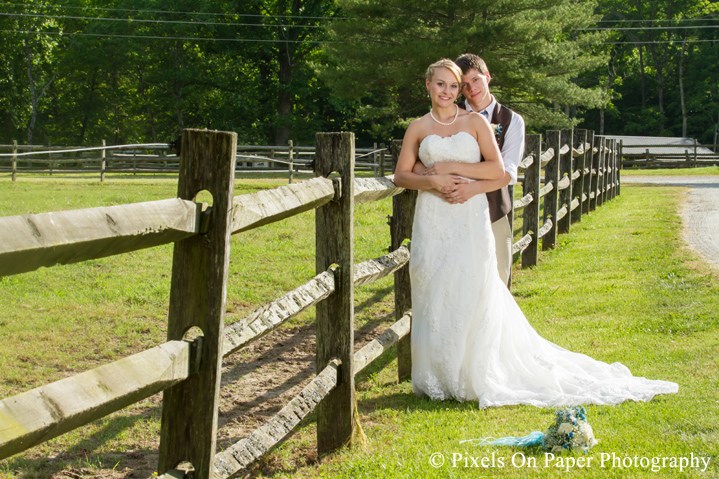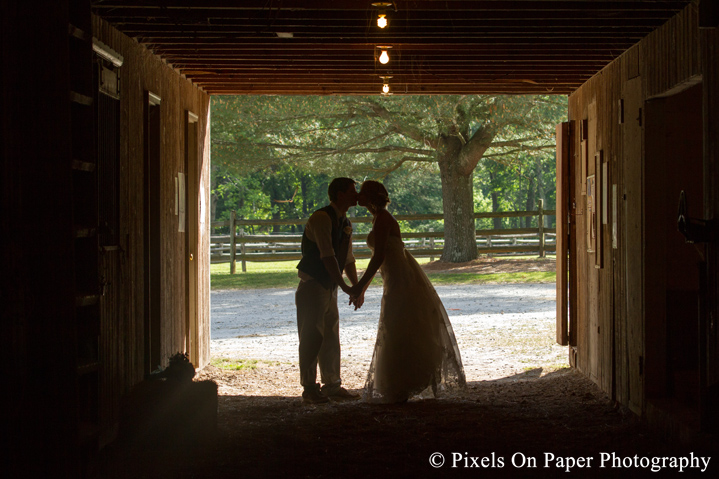 Following the post ceremony photos with Sarah and Jeremy off in the meadow and in the stables, all of the guests were treated to a wonderful reception in the covered  riding ring surrounded by details of hand made decor and plenty of personal touches. A BBQ dinner was catered by Tipton's of Wilkesboro NC while Ball and Ball DJ entertained the guests.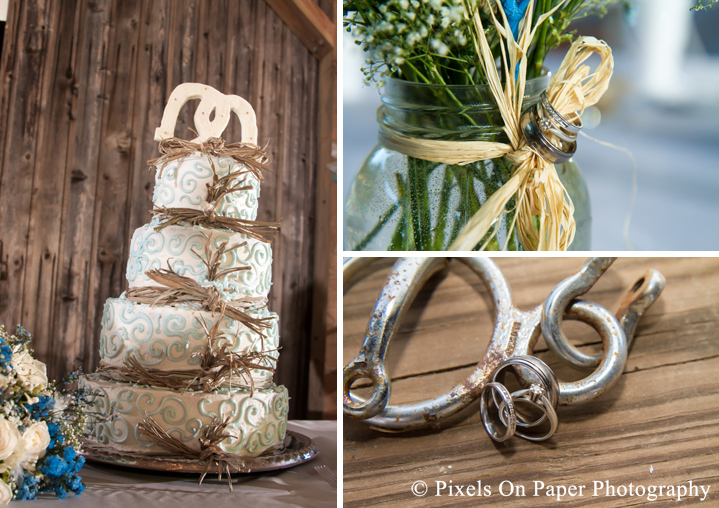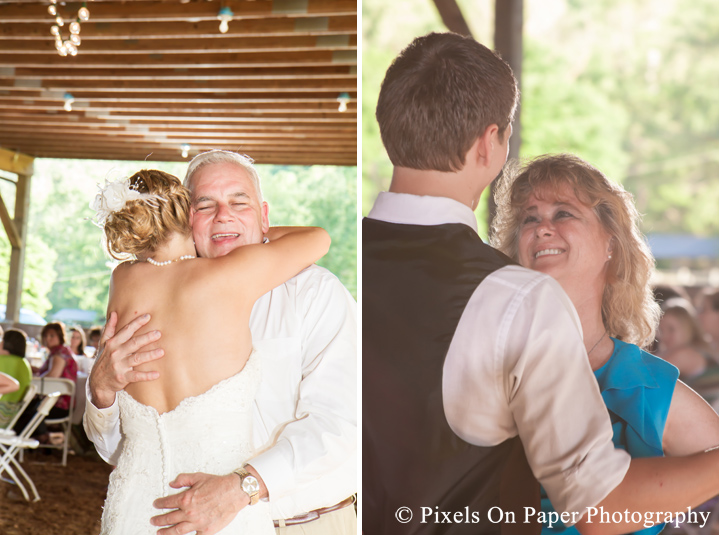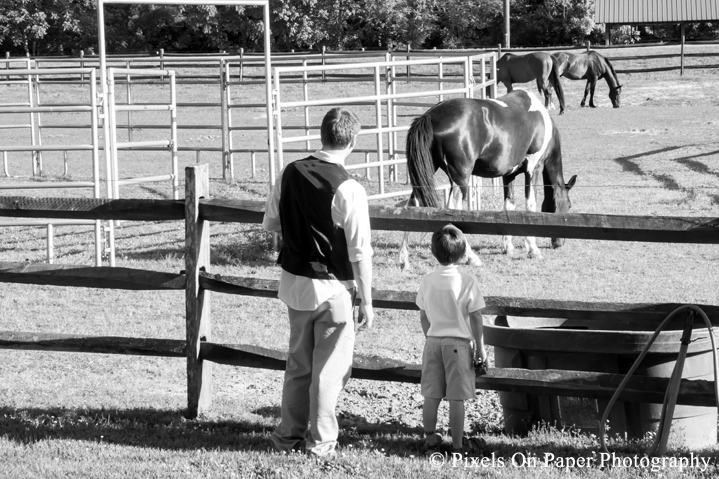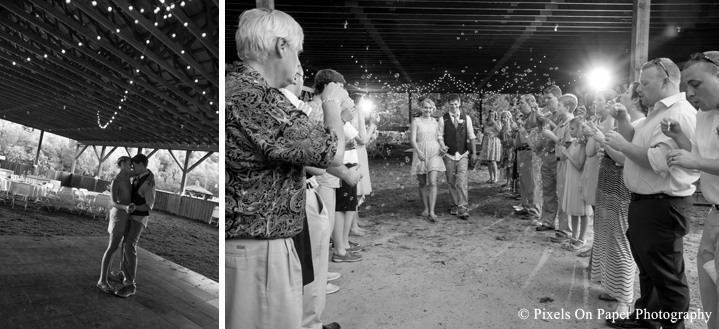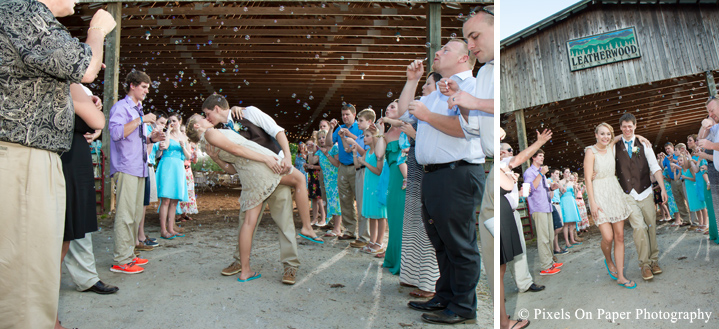 After a long afternoon of celebration, it was finally time to let the newlyweds head off to their honeymoon, but not before one last dance. While guests headed out of the riding ring to line up for the bubble send-off, Sarah and Jeremy got the chance to have the place to themselves for  one final wedding dance.
Be sure to check out Sarah and Jeremy's engagement portraits here if you have not seen them.
We are grateful to have been Sarah & Jeremy's chosen wedding photographers and we wish them a life full of romance.
Photography: Pixels On Paper
Location: Leatherwood Mountains Resort
Bride's Gown & Veil and Bridal Party Attire: Bridal Traditions Wedding and Prom Attire
Entertainment: Ball & Ball
Caterer: Tipton's 
Videographer: Divine Treasures
Vendor Resource: Wilkes Bridal Association
Want to learn more about our wedding photography packages or portrait photography in Boone, Blowing Rock, Wilkesboro NC  and the NC High Country or for NC Mountain destination wedding photography? Call 336-990-0080, visit our website www.pixelsonpaper.biz or send us and email at mail@pixelsonpaper.biz for more information.
This work is licensed under a Creative Commons Attribution-NonCommercial-NoDerivs 3.0 United States License
All photos are ©2013 Pixels On Paper. Pixels On Paper Photography Wilkesboro NC Wedding, Boone NC Wedding Photographer, NC Mountain Weddings, NC Mountain Destination Wedding Photography, Ferguson NC Wedding, Wilkes NC Wedding, Blowing Rock, NC Mountain Wedding Photographer, Boone Wedding and Portrait Photographers, Boone Wedding Photography, Boone Wedding Photographers, High Country Wedding Photographers, NC Wedding Photographers.  Husband and wife team providing creative photography for weddings and portraits in NC, specializing in the NC High Country,  Charlotte, Destination Weddings and in the NC Mountains.