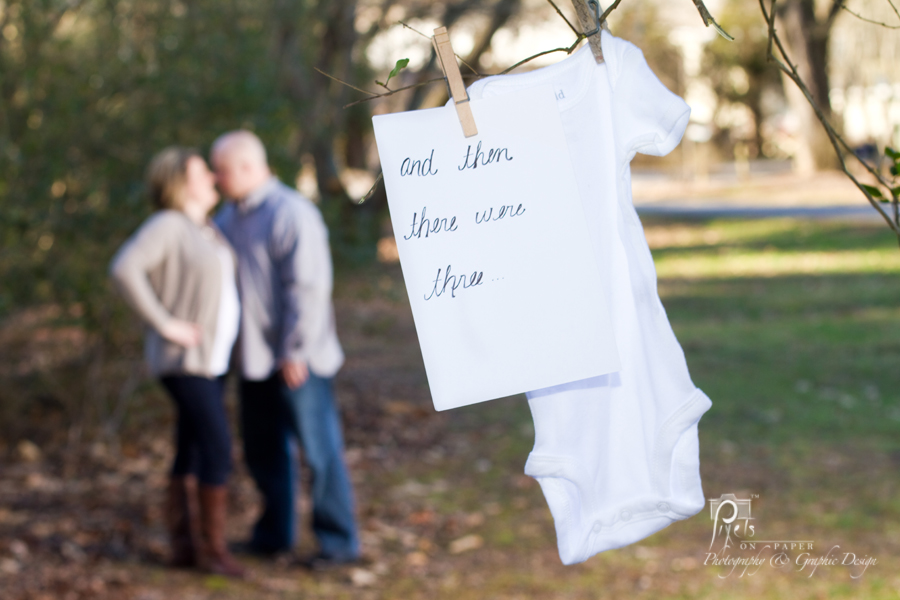 It's amazing to get to document through photos the important moments of so many people's lives. Photographing the announcement of a baby is so very special, especially for a couple that like many others have had difficulty.  Since getting that first phone call from Nikki I knew this would be something special. Our pre portrait session consult was filled with hope, thankfulness of the blessing she has received and a few lumps in my throat as she explained her and her husband's journey to have a child. Nikki and Chris fully realize and appreciate the importance of portraits to capture these moments that document the journey. She mentioned to me that because she doesn't know when or if they will have another child she doesn't want any regrets or missed opportunities.  She seriously even appreciates the experience of morning sickness!
Nikki is a beautiful mama.  I love her smile and her outlook on life. Her creativity and eagerness to spread the love combined with the tenderness and affection that Chris shows as he cares for her is going to make the next 9 months of photos an absolute thrill. Not to mention their adorable fur-baby Diamond, a precious English Bulldog who makes her Pixels portrait debut helping to announce baby Huffman. Because of our complete Baby Package, Pixels On Paper is going to be their photographer all along the way including baby announcement photos, maternity photography, newborn portraits, six months and first year portraits.
We've compiled photos from their Baby Is Coming photography session to create this short video. Hope you enjoy it!
Below are the precious 5×5 tri-fold custom baby announcements we designed and printed for Nikki and Chris to mail.


All of these photographs were captured at our portrait studio in the NC High Country in Wilkesboro, NC at 1198 Curtis Bridge Road. Want to learn more about our complete Baby Packages or portrait photography? Call 336-990-0080, visit our website www.pixelsonpaper.biz or send us and email at mail@pixelsonpaper.biz for more information.
This work is licensed under a Creative Commons Attribution-NonCommercial-NoDerivs 3.0 United States License
All photos are ©2013 Pixels On Paper. Pixels On Paper Photography Boone Portrait and Wedding Photographers, Blowing Rock Portrait Photography, High Country Portrait Photographers, Wilkes Portrait Photographers.  Husband and wife team providing creative photography for weddings and portraits in NC, specializing in the NC High Country and Charlotte and Destination Weddings in the NC Mountains.